Regardless of its cause, excess water and moisture on your property can lead to a number of costly problems. Most commonly, these issues range from damaged structural elements of your building to ruined furniture and belongings. At ServiceMaster Fire and Water Restoration, we offer water damage restoration services to property owners in Lone Tree, CO, to address these scenarios. Our restoration experts will respond immediately to your emergency in order to limit the extent of the damage. We utilize the best equipment and processes in the industry and do everything in our power to return properties to their original condition.
More on Water Damage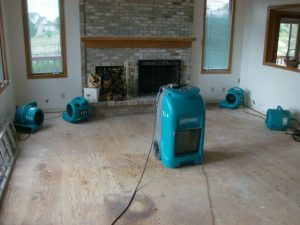 In Lone Tree, CO, and the surrounding areas, property owners face a number of risks when it comes to water damage. We are all familiar with leaks due to severe storms and heavy rain, but those in Colorado must also consider frozen and burst pipes. These situations can lead to hundreds of gallons of water quickly entering your living space. Additional concerns include overflows, sewage backups, and other flooding events that may involve contaminated water. As we mentioned above, our restoration experts have the tools and experience required to restore your property given any of these situations.
Another problem that can arise due to excess water and moisture is mold growth. Mold can appear in as little as 48 hours and it thrives in areas exposed to excess moisture. Tackling water damage swiftly can minimize the risk of mold growth. If mold begins to grow on your property, we are happy to provide our mold remediation services to eliminate it.
Water Damage Restoration in Lone Tree, CO
At ServiceMaster Fire and Water Restoration, we are available 24-hours a day to assist you in your time of need. No matter the cause or scale of the damage, our water removal and restoration experts will restore your building and belongings to their original condition. We utilize industry-leading water extraction and drying equipment and techniques to achieve a desired result. When you choose to leverage our services, you can expect the following:
Initial Assessment: We will perform a thorough assessment of the damage on your property to develop an appropriate restoration plan.
Water Extraction and Drying: We will make use of advanced water extraction and drying equipment to remove excess moisture from your property.
Sanitization: We will utilize advanced cleaning products to disinfect affected areas.
Odor Removal: We will remove lingering odors from your building.
Restoration: We will fully restore your building and belongings.
Leverage Our Water Damage Restoration Services
To take advantage of our water damage restoration services, contact our ServiceMaster Fire and Water Restoration representatives at (303) 800-3404. We offer our services 24-hours a day to property owners in the Lone Tree, CO, area.
---
Recent Reviews
---
Review by Tjty James
Disaster Restoration
Rating

"Cassie and her crews were incredible. She truly made me feel like the patient who finally meets the doctor who can cure his or her ailment. She was prompt, knowledgeable, friendly and professional. Servicemaster is very fortunate to have such a wonderful employee."
---
Review by Courtney Clark
Disaster Restoration
Rating

"Super professional and on time. Recommend them to anyone."
---
Review by Joseph Steffens
Disaster Restoration
Rating

"Was moving out of my home and called ServiceMaster to clean our carpets. They did an amazing job and their technician was very detailed and a true expert! Would highly recommend this company."
---
See All Reviews