Hoarding is a significant problem that affects a large number of Americans each year. This includes those in the Lone Tree, CO, area. By "hoarding", we are referring to individuals who suffer from a very real condition known as "hoarding disorder". Hoarding disorder can make it extremely difficult for someone to part ways with belongings, whether it's something valuable or not. If you or a loved one struggles with hoarding tendencies, we encourage you to leverage our hoarding cleaning services. At ServiceMaster Fire and Water Restoration, we employ a personalized approach to hoarding cleaning that keeps affected individuals involved and engaged throughout the cleaning process. We will help get rid of dangerously-piled belongings, biohazard materials, and other harmful elements.
The Dangers of Hoarding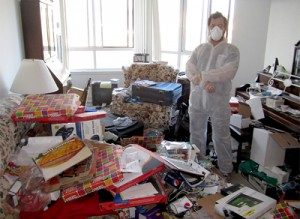 Hoarding can lead to a number of dangers for individuals on the property. Many hoarders will not seek help by themselves, so it is often the role of friends and family members to point out these dangers. They include:
Fire Hazards: As more items stack up, you create a greater risk of generating fire hazards. These belongings can also make fires much worse if one ever does start on your property.
Blocked Avenues of Escape: In the event of an emergency, such as a fire, it is important to be able to safely exit the building in multiple ways. This is not always the case in hoarding scenarios.
Bacterial Buildup: Because certain areas are not often cleaned (if ever), bacteria and other harmful pathogens can build up to create an unsafe environment. This is true of allergens, as well.
Tipping Hazards: In areas with boxes and belongings stacked high, individuals walking by are at risk of being hurt or trapped by falling debris.
Restoring Your Property
At ServiceMaster Fire and Water Restoration, we offer professional-grade cleaning services in a personalized manner. We always approach hoarding scenarios with a level of compassion and understanding, as we know how difficult it can be to seek help in the first place. Once trust and mutual respect have been established, we work with individuals affected by hoarding tendencies to clean the property. This involves the following:
The removal of unwanted/unneeded belongings (we work with hoarding individuals to determine what should be thrown away, recycled, donated, kept in the family, etc.)
Property decontamination using our state-of-the-art sanitization equipment and procedures
Deodorization services
Proper disposal of any harmful biohazard materials
At the end of the day, our goal is to leave your property in a safe, sanitary condition. We abide by all rules and regulations set by OSHA, the EPA, and the Department of Transportation to achieve this.
Trusted Hoarding Cleaning
To learn more about our hoarding cleaning services, or to schedule an appointment, give us a call at (303) 800-3404. Our ServiceMaster Fire and Water Restoration representatives are available 24-hours a day. We are happy to assist struggling families in the Lone Tree, CO, area.
---
Recent Reviews
---
Review by Tjty James
Disaster Restoration
Rating

"Cassie and her crews were incredible. She truly made me feel like the patient who finally meets the doctor who can cure his or her ailment. She was prompt, knowledgeable, friendly and professional. Servicemaster is very fortunate to have such a wonderful employee."
---
Review by Courtney Clark
Disaster Restoration
Rating

"Super professional and on time. Recommend them to anyone."
---
Review by Joseph Steffens
Disaster Restoration
Rating

"Was moving out of my home and called ServiceMaster to clean our carpets. They did an amazing job and their technician was very detailed and a true expert! Would highly recommend this company."
---
See All Reviews