(303) 800-3404
Mold can begin to grow in residential and commercial properties with little notice and cause significant property damage when left untreated. It is also highly hazardous to the health of anybody on the property. At ServiceMaster Fire and Water Restoration, we offer comprehensive mold remediation services to locate and eliminate all mold from your property and restore affected areas. We offer these mold removal services to property owners in Lone Tree, CO, and the surrounding areas.
More on Mold Growth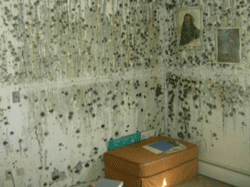 All mold needs in order to grow is an organic food source and excess moisture. It can appear in as little as 48 hours and spread rapidly to other areas of your property. Places that are commonly exposed to excess moisture include under sinks, behind refrigerators, in areas affected by water damage, and similar locations. It is important to note that mold can naturally feed on wood, drywall, and other building components that contain cellulose. This means that mold can literally eat away at your building and belongings, and lead to significant damage.
Mold is also highly detrimental to the health of individuals exposed to it on the property. It can lead to worsening allergies, respiratory issues, and sometimes severe health problems. The only way to mitigate these risks is to eliminate the mold at the source.
Comprehensive Mold Removal Services
At ServiceMaster Fire and Water Restoration, we utilize advanced mold testing equipment to identify all sources of mold growth, and effectively treat them. We also take steps to prevent mold growth from occurring in the future. This means that you do not need to worry about mold appearing again shortly after we leave. Our entire mold remediation process goes as follows:
We evaluate the condition of your property to determine the level of mold growth
We create a report of our findings, and deliver a copy to your insurance provider
We isolate and contain areas affected by mold growth in order to prevent the mold from spreading while we work
We create a comprehensive mold remediation plan depending on your unique circumstances
We remove all mold at the source, and restore affected areas
We provide deodorization services as needed to eliminate lingering odors
We perform a final inspection to ensure that all mold has been removed
Leverage Our Mold Remediation Services
Mold is notorious for how easily it can spread, and how difficult it can be to remove. If you are struggling with mold growth on your property, we encourage you to contact our ServiceMaster Fire and Water Restoration representatives as soon as possible. We can be reached at (303) 800-3404 and are happy to answer any questions you have. We are available to residential and commercial property owners in the Lone Tree, CO, area 24-hours a day.
---
Recent Reviews
---
Review by Tjty James
Disaster Restoration
Rating

"Cassie and her crews were incredible.
She truly made me feel like the patient who finally meets the doctor who can cure his or her ailment. She was prompt, knowledgeable, friendly and professional.
Servicemaster is very fortunate to have such a wonderful employee."
---
Review by Courtney Clark
Disaster Restoration
Rating

"Super professional and on time. Recommend them to anyone."
---
Review by Joseph Steffens
Disaster Restoration
Rating

"Was moving out of my home and called ServiceMaster to clean our carpets. They did an amazing job and their technician was very detailed and a true expert! Would highly recommend this company."
---
See All Reviews