Fires are among the most damaging events that can occur on your property. The flames themselves can spread with relative ease to destroy a wide range of belongings and building components, while the resulting smoke and soot can linger to cause additional problems. Reacting quickly is the best way to minimize the damage. At ServiceMaster Fire and Water Restoration, we offer 24/7 fire damage restoration services to property owners in Lone Tree, CO, and the surrounding areas. Through these services, we address all aspects of fire and smoke damage restoration for home and business owners alike. If your building is affected by fire or heavy smoke, we encourage you to contact us right away.
More on Fire and Smoke Damage
The impact that fires can have is greater than many realize. Yes, the resulting flames can devastate your building and consume much of its contents; however, even seemingly unaffected areas can be damaged. During fires, certain synthetic materials that are burned produce chemical emissions that are highly dangerous. They wind up spreading with smoke and soot, and can cause tarnishing, etching, and permanent damage. Even the water and other elements used to combat the fire can result in property damage.
Restoring Your Property After a Fire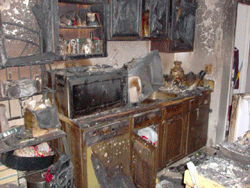 At ServiceMaster Fire and Water Restoration, we are a full-service fire damage restoration provider. This means that we address all aspects of fire damage to restore your property to its original condition. In order to achieve the best results possible, we offer our services on a 24-hour basis. Our fire damage restoration process goes as follows:
We provide emergency pre-cleaning services to limit the possibility of delicate items and areas experiencing permanent damage
We offer content cleaning and pack-out services to restore your belongings on-site or at one of our climate-controlled restoration facilities
We provide wall and ceiling cleaning services, and work to restore other damaged areas of your building
We fully sanitize and deodorize affected areas
What to Do Following a Fire
Following a fire on your property, there are several steps you should take to limit the extent of the damage, and get back on your feet:
Contact our representatives as soon as possible to begin restoration and cleaning procedures
Open your doors and windows to air out the building (if outdoor temperatures allow)
Clean off porcelain, Formica, aluminum, and chrome surfaces to prevent tarnishing
Replace your furnace air filter if it uses forced hot air
Place a damp cheesecloth over return and supply vents to remove loose soot from the air
Dispose of open food containers
Clean out your refrigerator
Bring smoke-damaged clothing to a professional cleaner
What Not to Do Following a Fire
Similarly, there are certain things you should avoid doing following a fire that will protect you and your belongings:
Do not touch drywall, wood, upholstery, or carpeting until it is professionally treated
Do not wash soot-damaged walls until they are professionally treated
Do not use electrical equipment or appliances until they have been professionally inspected
Do not use ceiling fixtures if the ceiling is wet
Emergency Fire Damage Restoration Services
To take advantage of our 24/7 fire damage restoration services, contact our representatives at (303) 800-3404. We will respond rapidly to limit the extent of the damage and restore your property. We are proud to service property owners in the Lone Tree, CO, area.
---
Recent Reviews
---
Review by Tjty James
Disaster Restoration
Rating

"Cassie and her crews were incredible. She truly made me feel like the patient who finally meets the doctor who can cure his or her ailment. She was prompt, knowledgeable, friendly and professional. Servicemaster is very fortunate to have such a wonderful employee."
---
Review by Courtney Clark
Disaster Restoration
Rating

"Super professional and on time. Recommend them to anyone."
---
Review by Joseph Steffens
Disaster Restoration
Rating

"Was moving out of my home and called ServiceMaster to clean our carpets. They did an amazing job and their technician was very detailed and a true expert! Would highly recommend this company."
---
See All Reviews