Hydroforce Cleaning and Restoration
Water and excess moisture can cause major issues in homes and commercial buildings because many building materials and furnishings will quickly absorb it.  Water damage is often caused by heavy rain, flooding, and other wet weather conditions as well as burst pipes, appliance leaks, sewage backups and overflows.  As building materials and furnishings absorb the water, they may become warped and rotted and experience structural damage and mold growth.  The damage will continue to spread until it is removed and the affected areas are thoroughly dried.
At Hydroforce Cleaning and Restoration, we provide water damage restoration services in Cicero, IL to remove excess water from homes and businesses and restore the damage.  We can handle any level of water damage from indoor flooding to a leak using advanced water extraction and drying equipment.  Our technicians will arrive quickly, prepared to provide effective restoration services and they have each passed a background check and can be trusted on your property.
Water Damage Restoration in Cicero, IL
Excess water on your property, even a minor amount, can result in serious damage if given enough time.  As furnishings and building materials such as flooring, wood, and drywall absorb water, they allow it to spread further.  The materials affected will become warped and discolored and eventually start to rot.  This is especially dangerous for drywall and woodwork as this can compromise their structural integrity.  The materials and areas affected by water damage also become vulnerable to mold growth if the water is not removed within 24 hours.  If you notice water damage on your property, you need to call our professionals immediately.
Water Damage Mitigation
Sometimes when dealing with water damage on your property, it can be difficult to tell if the level of damage justifies filing an insurance claim.  Our technicians will inspect the scope of the damage and provide you with an estimate.  We will then compare the estimate to your insurance deductible and help you determine if you should file a claim.  If you do decide to file a claim, we can provide direct billing to your insurance company.
Watch RestorationMaster video for more information on mold remediation:
Make sure you follow these tips if you find water damage on your property:
Contact Hydroforce Cleaning and Restoration as soon as possible for water damage restoration.
If your property is flooded from an inside source, turn the water off at the shut-off valve.
Turn off the power before unplugging any electronics.
Keep curtains and drapes elevated from the floor.
Lift furniture upholstery that is touching the floor.
Put aluminum foil under all furniture legs.
Move items off of wet carpeting.
Do not do any of the following after water damage has occurred:
Do not try to remove water with a regular vacuum because there is a high risk of an electric shock.
Do not put newspapers on wet carpeting or furniture because the ink can transfer and stain the surfaces.
Try to avoid walking on wet carpeting.
Loss Documentation with 3D Technology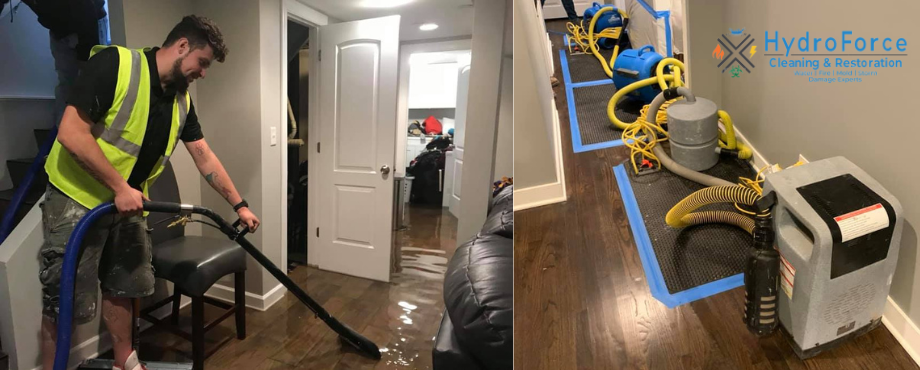 Accurately documenting the losses on your property caused by water damage and flooding can be difficult.  However, it is important to record the damage accurately for a fair insurance claim.  At Hydroforce Cleaning and Restoration, we use 3D technology to accurately document the damage to personal belongings in homes as well as equipment and inventory for businesses.  A link to these files can be shared with you and your insurance adjuster to eliminate disputes and make the claims process more efficient.  This will also help us come to an agreement on the scope of the work with your insurance provider.
As soon as you find water damage in your home or building in Cicero, IL, do not hesitate to contact our water damage restoration professionals at Hydroforce Cleaning and Restoration.  We will arrive quickly to your property to limit the spread of the water and begin the drying and restoration process.  We also offer a price match guarantee in which we will beat or match estimates from other professionals that work within the IICRC's standard of care.  Our price match only applies to non-covered claims to help keep your out of pocket costs low.
Contact Us for Water Damage Restoration in Cicero, IL
Our technicians will arrive equipped to provide complete water damage mitigation.  We have the experience and proper equipment to fully remove water and moisture using proven techniques such as Rapid Structural Drying.  With this method, we use air movers and dehumidifiers to cause the absorbed water and moisture to evaporate, saving the affected materials from permanent damage.  We will make sure to find water damage in hidden areas as well using moisture meters to ensure that the damage is completely restored. Give us a call 24 hours a day at (630) 528-2865 for emergency water damage restoration services in Cicero, IL.
---
Related Water Damage Restoration Services:
Water Damage Repair Professionals in Hickory Hills, IL
Water Damage Mitigation in Orland Park, IL
Water Damage Repair in Oak Lawn, IL
Water Restoration Services Burbank, IL
Water Damage Restoration Company Bridgeview, IL
---
Recent Reviews
Review by Carlos Casanova
Disaster Restoration
Rating 5

"This company goes the extra mile in helping customers in difficult circumstances. When my home basement had flooding problems, Hydroforce responded quickly and worked with me on financial constraints. I certainly recommend this company for honest and accurate work done well."
---
Review by Daniel Joseph Izaguirre
Disaster Restoration
Rating 5

"Great company to do buisness with i recommmend hydroforce"
---
Review by Jessica Carroll
Disaster Restoration
Rating 5

"Joe responded so quickly and provide a quick turnaround time with our water damage. His team was great, provided great service, and explained everything that needed to be done. Highly recommended!"
All Reviews