Hydroforce Cleaning and Restoration
Standing water in your home or building can result in very serious damage.  The surrounding furnishings and building materials quickly absorb water when flooding occurs, making them vulnerable to damage and mold growth.  The damage from a flood will also spread as more materials absorb the water.  If the flood water on your property is contaminated by sewage, the situation will be much worse.
Sewage water contains waste materials and dangerous toxins such as bacteria and harmful microorganisms.  The waste materials will make the damage more severe, often causing permanent damage to the affected materials, while the toxins put your health at serious risk.  You must avoid any water on your property that you believe is contaminated with sewage.
At Hydroforce Cleaning and Restoration, we can help homes and businesses in Cicero, IL affected by sewage water with our sewage cleaning services.  Whether you experienced a sewage backup or indoor flooding that contains sewage water, our technicians can safely remove the sewage with our advanced water extraction equipment.  We can also limit the risk of related health effects by cleaning and disinfecting the affected areas after the sewage water is removed.
Our technicians have the experience and equipment to handle sewage cleaning and they have each passed an extensive background check.  You can trust our technicians to provide quality restoration and excellent customer service.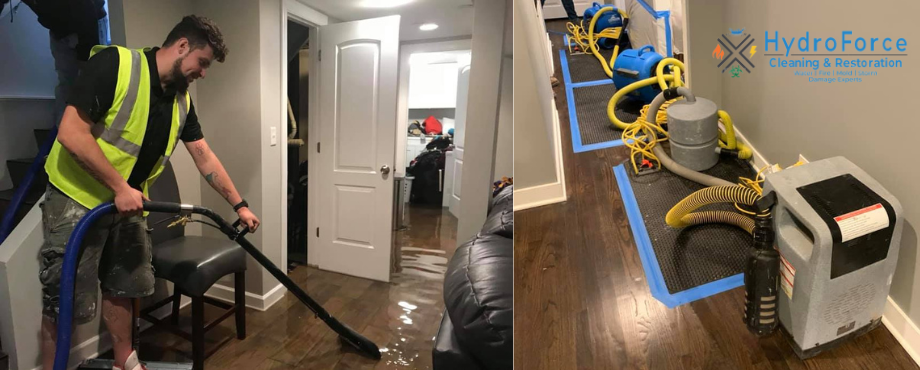 Sewage Backups

The presence of sewage on your property is very dangerous because of the damage it can cause and the threat it poses to your health.  If you believe that the water in your home or building is affected by sewage, you need to avoid any contact with the water and call us immediately.  The cleanup needs to be done by our trained and equipped professionals to ensure your safety.
Sewage can cause the following issues:
Water Damage: Sewage water can get absorbed by porous building materials and furnishings and when this happens, the affected materials also absorb the waste that is in the sewage. This can cause extensive, often permanent damage.  As a result, building materials may need to be removed and replaced.  Acting quickly will help limit the extent of the damage and prevent permanent damage.
Health Risks: The threat it poses to your health is the biggest problem with sewage as it contains harmful microorganisms, viruses, and bacteria that can trigger a range of health issues. It is very important that no one on your property comes into contact with water that may contain sewage.  Our professionals can safely remove dangerous sewage water and ensure that the affected areas are cleaned and disinfected to eliminate health risks.
For more information on sewage water damage restoration, watch the RestorationMaster video: 
Sewage Cleaning
Our technicians at Hydroforce Cleaning and Restoration are equipped to provide sewage cleaning in any scenario.  We use advanced water extraction and drying equipment to remove contaminated sewage water and we will also thoroughly clean, restore, and disinfect the damaged areas.  If any building materials or furnishings are permanently damaged by the sewage, we will remove them from your property.
During our initial evaluation of the damage, we will determine what of the affected materials can be saved and what will need to be removed.  The materials that can be saved will be dried, restored, cleaned, and sanitized so they can be used again.
When dealing with sewage on your property, you may be unsure if you should file a claim with your insurance provider.  Our technicians will help you make this decision based on our initial evaluation of the damage.  If you determine that you should file a claim with your insurance, we can provide direct billing to your insurance company to pay for the claim.  If your claim is not covered by your insurance, we can help keep the cost low with our price match guarantee.  With this guarantee, we will match or beat an estimate you receive from another professional that provides restoration within the IICRC's standard of care.
Contact Us for Sewage Backup Cleanup in Cicero, IL
Any amount of sewage on your property requires immediate attention so make sure you call our professionals at Hydroforce Cleaning and Restoration as soon as possible for sewage cleaning.  We will completely remove all sewage water from your home and clean and disinfect the damaged areas so they are safe for use.
You can reach us 24 hours a day at (630) 528-2865 for sewage cleaning in Cicero, IL.
---
Related Services:
Sewage Cleaning Bridgeview, IL
Sewage Backup Cleaning Oak Brook, IL
Sewage Cleanup Company Burbank, IL
Oak Lawn, IL Sewage Cleanup
Orland Park, IL Sewage Cleaning
Sewage Cleaning Professionals Hickory Hills, IL
---
Recent Reviews
Review by Carlos Casanova
Disaster Restoration
Rating 5

"This company goes the extra mile in helping customers in difficult circumstances. When my home basement had flooding problems, Hydroforce responded quickly and worked with me on financial constraints. I certainly recommend this company for honest and accurate work done well."
---
Review by Daniel Joseph Izaguirre
Disaster Restoration
Rating 5

"Great company to do buisness with i recommmend hydroforce"
---
Review by Jessica Carroll
Disaster Restoration
Rating 5

"Joe responded so quickly and provide a quick turnaround time with our water damage. His team was great, provided great service, and explained everything that needed to be done. Highly recommended!"
All Reviews