Hydroforce Cleaning and Restoration
A traumatic event that involves a major injury or death may be unlikely to occur on your property, but it is still a possibility.  These situations can be traumatic and dangerous, so it is important to know how to react if such an event unfolds on your property.  The scene of a major injury or violent crime often contains blood and bodily fluids that can spread infection and disease if they are mishandled.  If you encounter a trauma scene, you need to keep a safe distance and call the proper authorities immediately.  You will also have to call a licensed restoration professional because law enforcement cannot safely clean and disinfect the scene.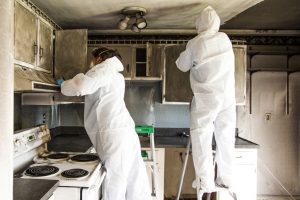 At Hydroforce Cleaning and Restoration, we provide biohazard and trauma scene cleaning services to safely clean and restore these scenes in Cicero, IL.  Our certified technicians can safely remove biohazard materials and restore the scene and we work with law enforcement to avoid compromising their investigation.  We will ensure that the affected area is completely restored to a safe condition.
Each of our technicians has passed a background check so you can trust them to provide excellent services and we treat our clients with respect and compassion in these sensitive situations.
Biohazard Cleaning
Our professionals at Hydroforce Cleaning and Restoration are fully trained, licensed, and equipped to provide complete cleaning and disinfection for trauma scenes affected by biohazard materials.  We will not only ensure that the affected area is restored to its original condition, but we will also work diligently and discreetly to protect your privacy.
With our advanced equipment and cleaning products, we can remove all biohazard materials including blood and bodily fluids and safely transport them to a facility for proper disposal.  Once these materials are removed, we will thoroughly clean and disinfect the space so that it is safe to use once again.  If a crime has been committed, we can work along side law enforcement officials as they conduct the crime scene investigation.
The exact cleaning and restoration services needed will depend on the situation, but will likely include the following:
Repair of structural elements such as drywall and flooring
Complete cleaning and disinfection of the affected area
Furniture restoration
Broken window replacement
Cabinet repair and restoration
Wall painting
HVAC, plumbing, and electrical system inspection
Trauma Scene Cleaning
We make sure that all biohazard materials are cleaned, removed, and disposed of while following CDC, EPA and OSHA regulations.  We follow all local and federal laws and our professionals are certified in handling bloodborne pathogens to ensure it is done safely.
Our biohazard cleaning services are effective for the following scenarios:
Crime scenes that contain dangerous materials such as blood, bodily fluids, fingerprint dust, and tear gas
The scene of a homicide, suicide, accidental death, or natural death
Vehicles and equipment
Meth labs
Homes affected by hoarding
Prison cell cleanup
If you have encountered a trauma scene on your property, chances are that filing an insurance claim is not on your mind.  Our professionals can help you decide if you should file an insurance claim based on the extent of the damage and cost of the restoration.  If you do file a claim, we will bill your insurance company directly.
Contact Us for Biohazard and Trauma Scene Cleaning in Cicero, IL
If a death or serious injury occurs on your property, you need to keep your distance and call the proper authorities to respond to the scene.  Once law enforcement and EMTs are notified, you must call our professionals at Hydroforce Cleaning and Restoration for biohazard and trauma scene cleaning.  We will make sure the scene is safely cleaned and disinfected quickly and discreetly.
You can reach us 24 hours a day at (630) 528-2865 to respond to emergencies in Cicero, IL.
---
Related Biohazard Cleanup Services:
Biohazard and Trauma Cleanup Oak Lawn, IL
Biohazard and Trauma Cleaning Orland Park, IL
Biohazard Cleaning Professionals Hickory Hills, IL
---
Why and How People Choose a Professional Contractor After a Home Disaster?
---
Recent Reviews
Review by Carlos Casanova
Disaster Restoration
Rating 5

"This company goes the extra mile in helping customers in difficult circumstances. When my home basement had flooding problems, Hydroforce responded quickly and worked with me on financial constraints. I certainly recommend this company for honest and accurate work done well."
---
Review by Daniel Joseph Izaguirre
Disaster Restoration
Rating 5

"Great company to do buisness with i recommmend hydroforce"
---
Review by Jessica Carroll
Disaster Restoration
Rating 5

"Joe responded so quickly and provide a quick turnaround time with our water damage. His team was great, provided great service, and explained everything that needed to be done. Highly recommended!"
All Reviews