Hydroforce Cleaning and Restoration
In every home or building, there is a constant risk of fire as fires can be caused by cooking, electrical issues, candles, and many other things.  Once a fire starts, it can quickly spread, causing very serious damage and putting lives at risk.  If a fire breaks out on your property, you need to ensure that the building is quickly evacuated and call the fire department to have it extinguished.  Just because the fire is out, that doesn't mean that the damage is done.
Corrosive byproducts like smoke, soot, and residue remain after the fire is out and these materials will continue to spread and cause additional damage.  You need to call for restoration quickly after the fire is out to limit this damage and get your home or building rebuilt.
At Hydroforce Cleaning and Restoration, we provide fire damage restoration services to cleanup and restore affected homes and businesses in Cicero, IL.  We can handle any level of fire damage, including structural repairs and the cleaning and restoration of objects and materials damaged by smoke and soot.  The sooner you call us after the fire is out, the better chance you have of preventing widespread or permanent damage.
Our technicians have the training and equipment to ensure that your home or building is restored to its pre-fire condition.  Each of our technicians have also passed an extensive background check so you know they can be trusted to restore your property.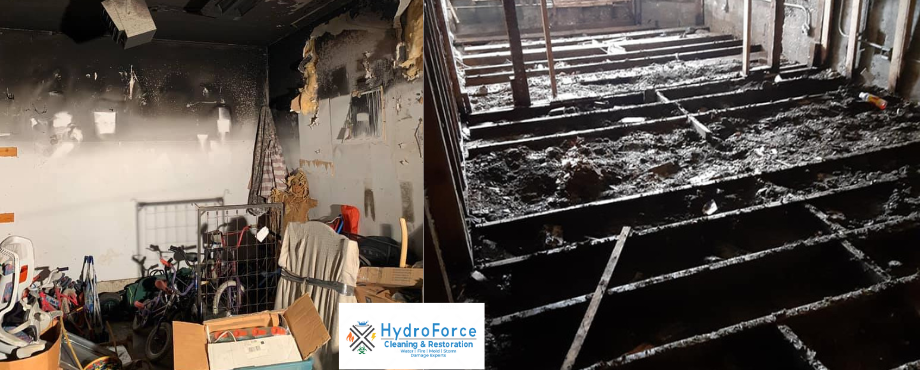 Fire Damage Cleanup in Cicero, IL
It is important to remember that damage can continue to spread after a fire as corrosive byproducts like smoke and soot are still lingering.  In some cases, the damage caused after the fire by the smoke and soot exceeds that caused by the fire itself.  This is why you need to call for fire damage restoration as soon as possible after the fire is out.  Smoke and soot will cause tarnishing and etching to the objects and materials it affects, and this damage can quickly become permanent.  It is important to limit the spread of these corrosive materials and begin cleaning in the affected areas to prevent permanent damage.
Once our technicians arrive, we will stop the spread of smoke and soot and stabilize the structural damage.  We will then form a thorough restoration plan to address all of the damage caused by the fire from major structural damage to tarnished surfaces and objects.  Our proven cleaning methods will effectively restore materials and objects affected by corrosive byproducts and we will ensure that the structural damage is rebuilt.
If your home is damaged by a fire, you may be unsure if you should involve your insurance.  We can help you decide if it is worth filing a claim after we complete our initial assessment of the damage.  If the estimate for the restoration is higher than your deductible, then we can help you file your claim.  We can also provide direct billing to your insurance company to help cover the claim.
For more information on fire damage restoration, watch RestorationMaster video:
You can help prevent further damage after a fire with the following tips:
Call our professionals immediately to limit the damage and start the restoration process.
If the temperature is below 60 degrees, open the windows to air out the smoke and fumes.
Have your children and pets stay at the home of a neighbor, friend, or family member because the remaining smoke and soot can create a dangerous environment.
Throw all contaminated food items away and clean out the inside of your refrigerator.
Take pictures and videos to thoroughly document the damage done to your property. We will also help document the damage with our 3D technology and share this with you and your insurance provider.
Avoiding these actions after a fire will help prevent further damage and keep you safe:
Do not clean porous surfaces yourself such as wood, drywall, or furnishings because improper cleaning makes the damage worse.
Do not sit on damaged furniture.
Do not save any food items that were exposed to the fire and smoke.
Do not use newspapers to cover damaged areas because the ink can transfer.
Do not use any electronics or appliances until they are inspected and approved for use.
Comprehensive Loss Documentation with 3D Technology
Accurately documenting the resulting damage in the aftermath of a fire can be difficult because of the nature of the damage.  However, it is important to document the damage to the building itself and your belongings and equipment within the building for an accurate insurance claim.  At Hydroforce Cleaning and Restoration, we can accurately document the damage to your home or business using 3D technology.  We can also share our findings with you and your insurance adjuster to prevent disputes and ensure an efficient restoration process.
When doing restoration work, it is very important for us to agree with your insurance carrier on the extent of the damage and scope of the work.  With this technology, we can come to an agreement quicker with your insurance provider and move on with the work.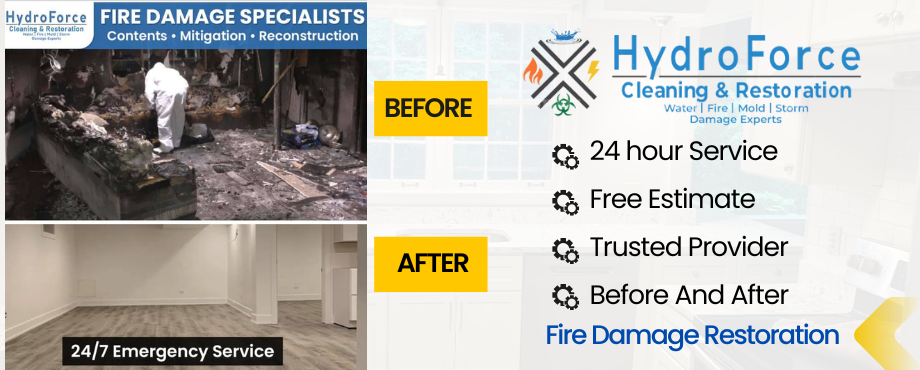 Contact Us for Fire Damage Restoration in Cicero, IL
If your home or business in Cicero, IL has been damaged by a fire, make sure you call Hydroforce Cleaning and Restoration immediately after the fire is out.  Our technicians will help limit the spread of the damage and begin the rebuilding and cleaning process.  If the damage is not covered by your insurance, we can help keep your out of pocket cost low with our price match guarantee.  We will match or beat any estimate you receive from an IICRC certified professional for the restoration.
We are available 24 hours a day at (630) 528-2865 to respond to fire damage emergencies in Cicero, IL.
---
Related Fire Damage Restoration Services
Smoke Damage Restoration Company in Hickory Hills, IL
Fire Damage Repair in Orland Park, IL 
Fire Damage Restoration in Oak Lawn, IL
Fire Damage Repair Services Bridgeview, IL
---
Recent Reviews
Review by Carlos Casanova
Disaster Restoration
Rating 5

"This company goes the extra mile in helping customers in difficult circumstances. When my home basement had flooding problems, Hydroforce responded quickly and worked with me on financial constraints. I certainly recommend this company for honest and accurate work done well."
---
Review by Daniel Joseph Izaguirre
Disaster Restoration
Rating 5

"Great company to do buisness with i recommmend hydroforce"
---
Review by Jessica Carroll
Disaster Restoration
Rating 5

"Joe responded so quickly and provide a quick turnaround time with our water damage. His team was great, provided great service, and explained everything that needed to be done. Highly recommended!"
All Reviews