Hydroforce Cleaning and Restoration
Mold is a dangerous substance in homes and commercial buildings because it can cause serious damage to your property, negatively affect the indoor air quality, and cause health issues.  Mold growth tends to appear in areas with high moisture or a water damage issue and it grows on building materials that contain its main food source, cellulose.  Once mold forms, it can cause deep structural damage to the affected surfaces and spread to new areas by releasing its spores.  Health issues are also more likely if mold is unaddressed as there is a greater chance for exposure.
Hydroforce Cleaning and Restoration provides complete mold remediation to remove mold growth from homes and commercial buildings in Cicero, IL.  Our technicians use advanced equipment and methods to isolate and remove the mold growth and we can also restore the indoor air quality.  A third party will come in for testing once we are finished to ensure that we have effectively removed the mold. We guarantee that our mold removal services will leave your property mold free and pass the clearance testing.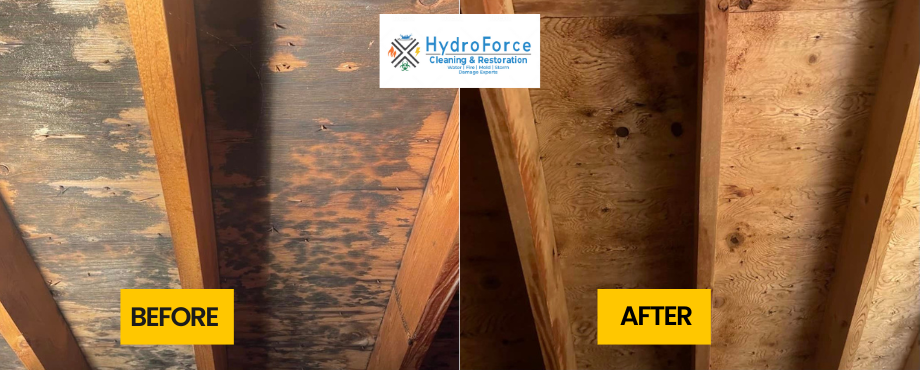 Mold Remediation in Cicero, IL

For mold removal services in the Cicero, IL area, contact Hydroforce Cleaning and Restoration at (630) 528-2865.
Mold can cause several problems on your property from extensive damage to health issues.  All mold growth needs to form is a source of moisture and a food source which is commonly found in wood, drywall, and other building materials.  This means that mold is most common in attics, basements, kitchens, bathrooms, and anywhere with a high level of moisture.  Surfaces affected by mold growth will experience surface damage and discoloration, but they could experience structural damage if the mold is allowed to continue eating away at the material.  Mold colonies can also spread their spores at any time which will result in mold growth in new places.
The other major issue with mold is that it causes a range of allergies and health issues.  Exposure to mold is dangerous, especially for children and the elderly, and the health problems people experience will become worse over time.  Exposure to mold can lead to the following health issues:
Skin irritation
Headaches
Trouble breathing
Cold-like symptoms
Irritation of eyes, nose, and throat
Asthma
Allergic reactions
Respiratory infections
Hypersensitivity pneumonitis
Watch RestorationMaster video for more information on mold remediation
Mold Removal Process
When you call Hydroforce Cleaning and Restoration for mold remediation, our professionals will inspect the extent of the mold growth to form an effective remediation plan.  If you are not sure if you should file a claim with your insurance provider for the mold damage, we can help you decide after we finish our assessment.  For those who do file a claim, we can bill your insurance company directly.
Our technicians are fully trained and equipped to provide complete mold removal and they have each passed a background check so you can trust them on your property.  You can expect the following from our mold remediation services:
Inspection: We start by inspecting the extent of the mold growth and identifying the source of the moisture that caused the mold to grow. We will then work on correcting the moisture issue and form a plan for the mold remediation.
Containment: Mold is always a threat to spread to new areas as mold colonies disperse their spores. Our specialists will isolate the affected areas to contain the mold growth and prevent its spread to other areas of the property.
Filtration: It is important to not only remove the mold growth, but also lower the concentration of mold spores in the air. We will filter mold spores and purify the air using HEPA filtration machines.
Remediation: It is important for you to leave mold remediation to the professionals because mold ingrains itself in the materials it affects. This means that you cannot simply remove mold growth from household surfaces using bleach, it needs to be removed completely.  Our technicians will use HEPA vacuums to remove mold spores from the affected surfaces and we use advanced cleaning products to remove mold stains.  We will then treat the affected materials with EPA registered antimicrobials.  If the affected building materials and objects cannot be saved, we will remove and discard them.
Drying: We make sure all affected areas are dried and free of moisture and we will help you implement moisture management strategies to prevent future mold growth.
Final Inspection/ Testing: Once the mold removal is done, we will have the property tested. A third party will come to test the spore count and ensure that it has been brought down to safe levels.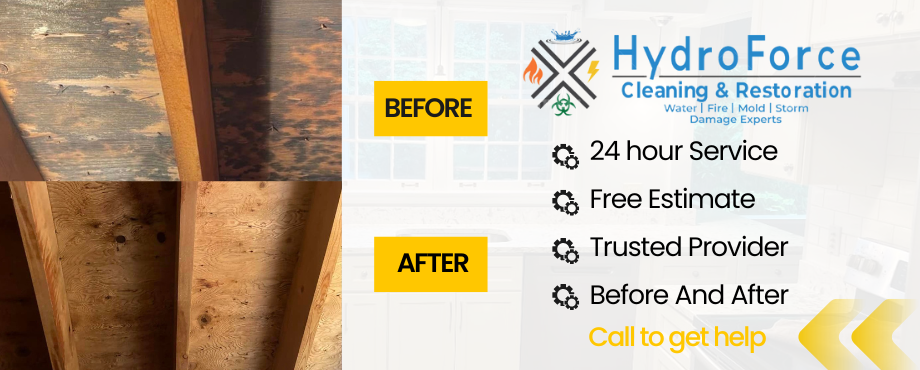 Contact Us for Mold Remediation in Cicero, IL
It is very important to take care of a mold problem on your property as soon as you notice any mold growth.  Any hesitation will only make the damage worse and increase the risk of health issues.  Hydroforce Cleaning and Restoration is ready to provide complete mold remediation and return your home or building to a healthy environment.  You can trust us to fully remove all mold growth and test your property afterward to ensure satisfactory results. If your claim is not covered by your insurance, we can help reduce your out-of-pocket costs with our price match guarantee.  If you receive an estimate from a professional that provides mold remediation according to the IICRC standard of care, we will match or beat their estimate.
You can reach us at (630) 528-2865 for mold remediation in Cicero, IL.
---
Related Mold Remediation Services
Mold Removal Specialists in Hickory Hills, IL
Mold Damage Restoration Companies in Orland Park, IL
Mold Removal Contractors Burbank, IL
Mold Removal Oak Lawn, IL
---
Recent Reviews
Review by Carlos Casanova
Disaster Restoration
Rating 5

"This company goes the extra mile in helping customers in difficult circumstances. When my home basement had flooding problems, Hydroforce responded quickly and worked with me on financial constraints. I certainly recommend this company for honest and accurate work done well."
---
Review by Daniel Joseph Izaguirre
Disaster Restoration
Rating 5

"Great company to do buisness with i recommmend hydroforce"
---
Review by Jessica Carroll
Disaster Restoration
Rating 5

"Joe responded so quickly and provide a quick turnaround time with our water damage. His team was great, provided great service, and explained everything that needed to be done. Highly recommended!"
All Reviews