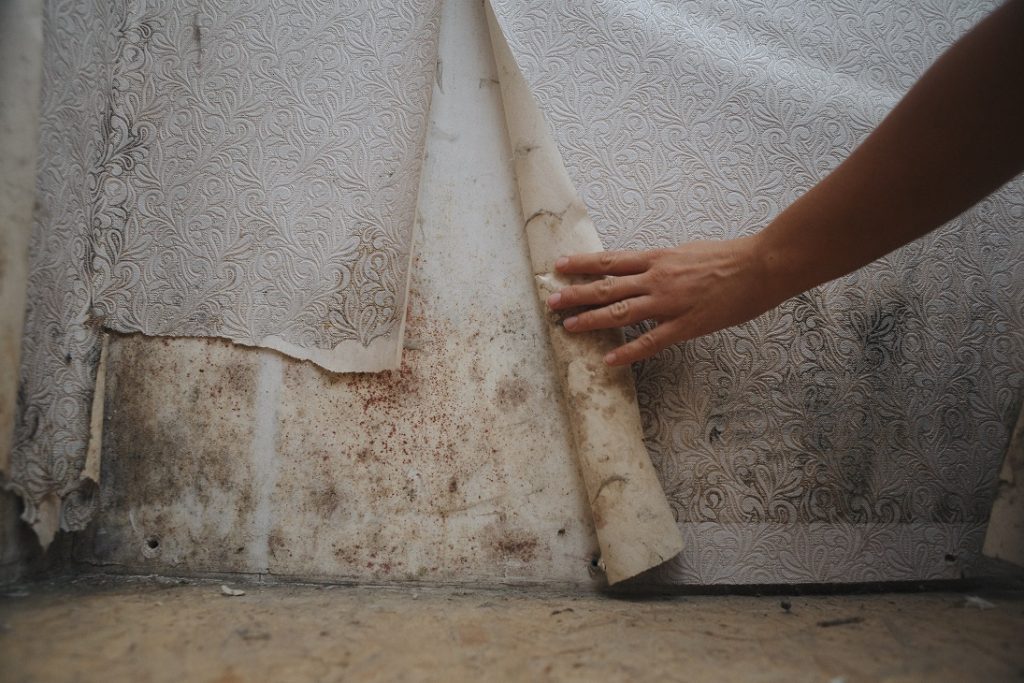 Mold is a common indoor contaminant that can cause several problems including property damage, indoor air quality issues, and health problems.  It almost always appears as a result of excess moisture which is why it is important to control the moisture level in your home and react immediately to any problems involving excess water.
As mold spreads it causes discoloration of the affected surfaces and eventually affects these surfaces deep enough to cause structural damage.  The possible health effects caused by mold exposure should also be a major cause for concern as the risk of serious health effects rises the longer people are exposed.
Hydroforce Restoration and Cleaning provides professional mold remediation services to rid your home or building in Oak Lawn, IL of mold growth.  Not only do we remove contaminated building materials, we will improve the air quality and restore the property to a healthy and safe environment.  To ensure that that the mold spore count inside the home has been reduced, we have a third party perform clearance testing after we have completed the remediation. We guarantee that after our mold removal process is complete, your property will pass this clearance testing.
Mold Growth on Property
The presence of mold on your property can result in many negative consequences.  Mold can appear anywhere in a home or building where it has a moisture source and a surface that consists of organic materials to provide it with food.  Once the mold colonies form, they eat away at the affected surfaces, causing discoloration and surface damage that can eventually give way to serious structural damage.  If mold is not properly addressed, it will continue to grow and can potentially contaminate other areas of the home.  Bleach is not recommended for killing mold on porous building materials.
It is recommended that you seek the assistance of an IICRC certified mold remediation professional such as Hydroforce Restoration and Cleaning.
Mold can cause structural damage, but more importantly, it can cause serious health risks.  Though everyone is susceptible, the most vulnerable to mold are the young and the elderly as they often have weak or compromised immune systems.  Mold is a common allergen that can exacerbate chronic problems among some individuals.  The mold strains that produce mycotoxins have the potential to cause health issues such as:
Breathing troubles
Headaches
Skin irritation
Coughing and cold-like symptoms
Irritation of the eyes, nose, or throat
Allergic reactions
Asthma attacks
Hypersensitivity pneumonitis
Respiratory infections
Contact Hydroforce Restoration and Cleaning at (708) 571-2550 for our mold remediation and mold removal services in the Oak Lawn, IL area.
Mold Remediation in Oak Lawn, IL
Upon contacting Hydroforce Restoration and Cleaning for mold removal, we will quickly respond to assess the damage and develop a plan of action.  Our technicians have passed a background check and have been trained thoroughly to handle any case of mold growth, and we provide direct billing to your insurance provider if you file a claim for the damage.
Our remediation process includes:
Inspection: Before performing mold removal and remediation, we must identify and correct the source of what is causing the mold to grow.  Mold will continue to grow if moisture is not controlled.  Hydroforce Restoration and Cleaning mold remediation specialists will help identify the source of moisture and will offer suggestions on how to correct it.  Once we have determined the extent of the mold contamination, we will develop a remediation plan based on our findings.
Containment: When mold is disturbed, it can easily spread through the air making it much more difficult to capture.  These tiny organisms are called mold spores.  Hydroforce Restoration and Cleaning mold removal specialists will isolate the work area to prevent the mold spores from contaminating the rest of your property.
Filtration: Reducing the mold spore count in the air is just as important as removing the mold from building components.  Hydroforce Restoration and Cleaning utilizes HEPA filtration machines to purify the air and reduce the amount of mold spores floating around.
Removal: Mold is a living organism and can deeply ingrain itself into materials to survive.  This is why mold must be physically removed from the structure.  Attempts to cover up mold on the surface will lead to contamination issues down the road.  Therefore, the EPA does not recommend that you use bleach as a means of mold removal.  Any contaminated materials that cannot be remediated will be removed and discarded.  Mold removal and remediation always begins and ends with meticulous HEPA vacuuming to capture mold spores from surfaces.  Stain removers are often used to eliminate or reduce mold staining.  EPA registered antimicrobials are applied to all affected areas to prevent the mold from returning.
Drying: We will help ensure that the affected objects and materials are dry after they are cleaned and discuss moisture management strategies with you to prevent the mold from returning.
Final Inspection/ Testing: Following remediation, a thorough post completion inspection is conducted.  Our mold remediation specialist will bring in an outside lab to perform a clearance test.  This ensures that the spore count inside the structure has been reduced and has returned to safe levels for a fungal ecology within an indoor environment.
Mold should be addressed immediately.  If the mold is not properly remediated, it can cause serious damage to your property as well as serious health risks.  If you notice a mold problem in your home or building in Oak Lawn, IL, you must call Hydroforce Restoration and Cleaning to provide professional mold remediation.  Our technicians will thoroughly assess the damage and create a step by step remediation plan to completely remove it.
We will also help keep out of pocket costs low with our price match guarantee that applies to non-covered claims.  We will match or beat estimates from other professionals that adhere to the IICRC's standard of care.
Contact Us for Mold Removal
If you would like to speak to a mold removal professional about our services, contact us at (708) 571-2550. We are available 24/7 to respond to your mold emergencies.
---
Related Mold Remediation Services
Mold Damage Restoration in Downers Grove, IL
Mold Removal Specialists in Hickory Hills, IL
Mold Damage Restoration Companies in Orland Park, IL
Mold Remediation in Tinley Park, IL
Mold Remediation in Berwyn, IL
Mold Remediation in Cicero, IL
Mold Remediation Services Oak Park, IL
Mold Removal Services Darien, IL
Mold Mitigation Burr Ridge, IL
Mold Damage Restoration Bridgeview, IL
Mold Removal Professionals Oak Brook, IL
Mold Removal Contractors Burbank, IL
Mold Removal Oak Lawn, IL
Mold Removal Services Lombard, IL
Mold Removal Contractors Elmhurst, IL
---
Recent Reviews
Review by Carlos Casanova
Disaster Restoration
Rating 5

"This company goes the extra mile in helping customers in difficult circumstances. When my home basement had flooding problems, Hydroforce responded quickly and worked with me on financial constraints. I certainly recommend this company for honest and accurate work done well."
---
Review by Daniel Joseph Izaguirre
Disaster Restoration
Rating 5

"Great company to do buisness with i recommmend hydroforce"
---
Review by Jessica Carroll
Disaster Restoration
Rating 5

"Joe responded so quickly and provide a quick turnaround time with our water damage. His team was great, provided great service, and explained everything that needed to be done. Highly recommended!"
All Reviews