Hydroforce Cleaning and Restoration
An important element of running a business or managing a commercial property is making sure the property is cleaned and well maintained.  A clean property provides a safer and more comfortable environment and reduces the risk of spreading illnesses.  During the current COVID-19 pandemic, it is especially important to ensure your building is cleaned and disinfected to protect your employees, visitors, and customers.
At Hydroforce Cleaning and Restoration, we provide disinfection and cleaning services for offices and commercial buildings in Oak Lawn, IL.  Our professionals are highly trained and understand how to apply EPA-registered disinfectants according to their labels to effectively combat the coronavirus.  Our advanced cleaning and disinfection methods will ensure that dangerous pathogens are removed from your property.
Each of our professionals at Hydroforce Cleaning and Restoration have passed an extensive background check so you can trust them to provide disinfection services on your property.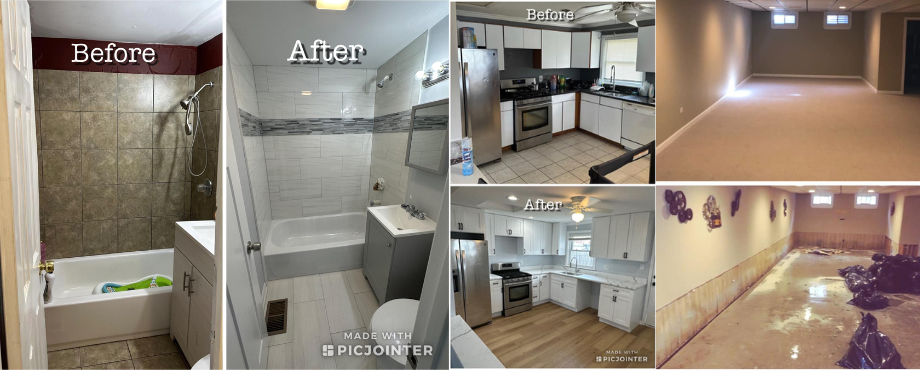 What is COVID-19?
COVID-19, also referred to as the coronavirus, is a serious respiratory disease that spreads through airborne droplets.  It most commonly spreads through person to person transmission and someone can also become infected by touching a contaminated surface.  The main symptoms include fever, sore throat, chills, coughing, and trouble breathing and symptoms can appear between 2 and 14 days after infection.  It is possible for some to experience mild symptoms while senior citizens and those with underlying conditions are more likely to experience severe symptoms.
You can learn more about the symptoms of COVID-19 with the coronavirus FAQ from the Centers for Disease Control (CDC).
Commercial Disinfection and Cleaning
It is recommended to have offices and other commercial spaces cleaned and disinfected to help prevent the spread of COVID-19.  Our technicians will thoroughly clean and disinfect your property with EPA-registered disinfectants and cleaning products that are proven effective against the coronavirus.  We start by cleaning your building to remove dirt and dust buildup and then ensure that the entire property is disinfected, including high traffic areas and high touch point surfaces and objects.
Our disinfection services are done within the guidelines of the CDC and World Health Organization (WHO) and our technicians will apply the disinfectants according to their label.  This means that they will be applied at the appropriate rate and given the right dwell time to eliminate harmful pathogens.  We will also keep ourselves protected using personal protective equipment (PPE).
For professional disinfection services in the Oak Lawn, IL area, contact Hydroforce Cleaning and Restoration at (630) 528-2865.
Our disinfection services include the following steps:
Air treatments to neutralize airborne viral particles
Thorough disinfection of high touch surfaces and objects including door handles, phones, desks, countertops, chairs, light switches, keyboards, bathroom fixtures, and much more
Fogging with a broad-spectrum biocide to ensure that viral particles are neutralized
Taking the following steps will help prevent the spread of infection in your workplace:
Tell employees to stay home if they experience any coronavirus symptoms. You can also have employees work from home if possible.
Encourage employees to frequently wash their hands and have alcohol-based hand sanitizer available for use.
Practice social distancing including staying 6 feet apart and avoiding physical contact.
Make sure your employees know to cough or sneeze into their elbow or a tissue.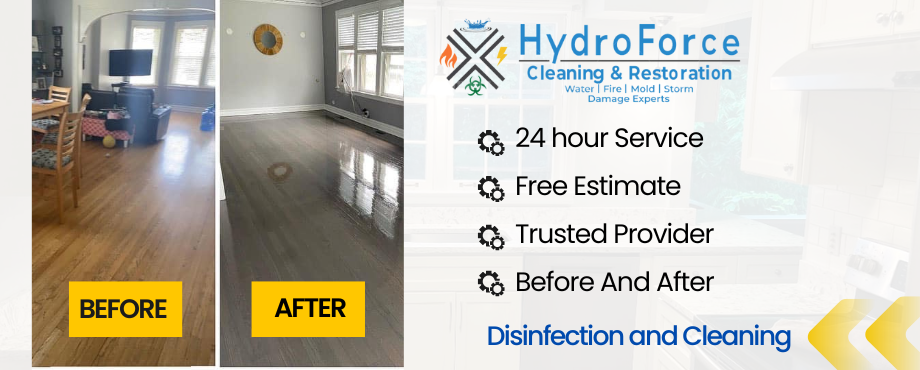 Call Now for Disinfection and Cleaning Services in Oak Lawn, IL
For more information on preventing the spread of illnesses in your workplace, consult this guide from the CDC. If you want to protect your office or building in Oak Lawn, IL from the coronavirus, call our professionals at Hydroforce Cleaning and Restoration.  The safety of your employees and occupants is our top priority.  You can reach us 24 hours a day at (630) 528-2865.
---
Related Disinfection Services:
Disinfection Services Burr Ridge, IL
Commercial Cleaning Services Bridgeview, IL
Disinfection and Cleaning Services Cicero, IL
Disinfection Services Hickory Hills, IL
---
Recent Reviews
Review by Carlos Casanova
Disaster Restoration
Rating 5

"This company goes the extra mile in helping customers in difficult circumstances. When my home basement had flooding problems, Hydroforce responded quickly and worked with me on financial constraints. I certainly recommend this company for honest and accurate work done well."
---
Review by Daniel Joseph Izaguirre
Disaster Restoration
Rating 5

"Great company to do buisness with i recommmend hydroforce"
---
Review by Jessica Carroll
Disaster Restoration
Rating 5

"Joe responded so quickly and provide a quick turnaround time with our water damage. His team was great, provided great service, and explained everything that needed to be done. Highly recommended!"
All Reviews