There are more cases of property damage in homes and commercial buildings caused by water than by any other source. This is because water can become a problem due to weather conditions like heavy rain and flooding, and issues within a property like leaks, plumbing problems, overflows, burst pipes, and sewage backups.  In each scenario, water damage is dangerous because the water spreads through porous building materials which can result in significant damage over time.  Materials that take on too much water can experience structural damage and mold growth.
At RestorationMaster, we provide water damage restoration services to help homes and businesses affected by flooding and water damage in Broomfield, CO.  We can remove water and effectively dry wet materials using advanced extraction and dehumidification equipment.  Our technicians will also repair the damage caused by the water and remove any mold that has formed.
Problems with Water Damage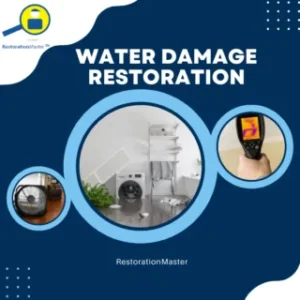 Any amount of excess water or moisture can cause damage to your property.  This is because water gets absorbed into materials like wood, drywall, wallpaper, insulation, and carpeting which allows it to spread over a large area.  Even a small leak can spread through drywall and permanently damage large sections.  If structural elements absorb too much water, this can threaten the structural integrity of the home or building.
Mold growth is another possible effect of water damage as mold spores settle in areas where there is excess moisture.  It is possible for mold to appear within 24-48 hours after water damage occurs which makes it important to address this problem immediately.  The appearance of mold will cause additional property damage and create unsafe conditions.
Professional Water Damage Cleanup
Calling our professionals at RestorationMaster for water damage cleanup immediately will help stop the spread of the water and limit the damage.  Our technicians will extract standing water and set up dehumidifiers to dry out the affected areas and materials.
You can expect the following steps with our water damage restoration services:
Assessment: We will start by assessing the extent of the damage and amount of water involved, as well as the source of the water.
Advanced equipment: Using our advanced water extraction equipment, we can remove excess water including standing flood water.
Thorough drying: After the water is removed, we strategically place air movers and dehumidifiers to extract the moisture from the affected materials.
Mold removal: We can remove mold growth that has formed as a result of the water damage.
Deodorization: We can effectively eliminate foul or musty odors from mold or contaminated water.
As soon as you notice water damage on your property, you need to call our professionals to limit the damage and start the restoration.  Our technicians use advanced equipment to thoroughly dry the affected areas and we will restore your property to its pre-disaster state.  You can reach RestorationMaster 24 hours a day at (720) 706-8965 for emergency water damage restoration in Broomfield, CO.