Nobody wants to think about the possibility of a violent crime or serious accident happening on their property, but you need to know what to do if a situation like this occurs.  These scenes are difficult and overwhelming to discover, and they are also dangerous.  Biohazard materials like blood and bodily fluids are often found at trauma and crime scenes and they are potentially infectious.  You should avoid all contact with dangerous materials and immediately call the proper authorities to respond to the scene.  You will also need to call a licensed professional that can remove the biohazard materials and clean the scene.
RestorationMaster provides biohazard cleaning in Broomfield, CO to safely clean and restore trauma and crime scenes.  We will make sure that all dangerous biohazard materials are removed, and we will clean and disinfect the affected areas to restore safe conditions.  Our technicians approach these situations with compassion and professionalism, and we can even cooperate with law enforcement if a crime has been committed.
Reliable Biohazard Cleaning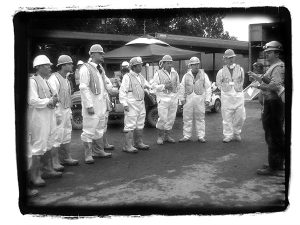 At RestorationMaster, our technicians are properly trained and licensed to remove all dangerous biohazard materials and restore the scene to safe conditions. It is important to have our professionals clean biohazard materials from the scene because we can do it without increasing the risk of disease or infection.  After removing all dangerous materials, we will clean and disinfect the scene to ensure that the area is safe to use again.  We also use personal protective equipment (PPE) to keep ourselves safe during the process.
You can expect the following from our biohazard cleaning services:
Decontamination: All biohazard materials are removed from the scene, and we will use powerful disinfectants to ensure that the scene is restored to safe conditions.
Odor removal: We use advanced deodorization methods to remove unpleasant odors.
Safe disposal: We will take biohazard materials to a licensed facility for safe disposal.
Continuous monitoring: We will get the job done quickly and efficiently and stay in communication with you during the process.
Insurance assistance: We will work with your insurance company to help with your claim.
Family assistance and support: We understand the difficulty of having a loved one experience death or a major injury. We can put those who are grieving in touch with counseling professionals.
Certified technicians: Our technicians have the training, certification, equipment, and expertise to provide effective biohazard cleaning services that follow local and state government regulations.
The first thing to do if there is a trauma or crime scene on your property is to call the proper authorities to respond to the scene.  After they have been called, you will need to reach out to our professionals to clean the scene and restore safe conditions.  We are available 24 hours a day at (720) 706-8965 for biohazard cleaning in Broomfield, CO.