The appearance of mold in a home or building is cause for concern as mold can damage a property and put your health at risk.  Mold growth can appear at virtually any time as the mold spores only need a source of water and food to form.  Once mold takes hold on a surface, it will cause deeper damage to the surface and continue to spread to new areas.  The property damage and risk to your health will increase the longer the mold is present on your property.
At RestorationMaster, we provide mold remediation services to remove mold growth from homes and buildings in Broomfield, CO.  Our technicians will safely and effectively remove all mold from your property and either repair or replace the damaged materials.  We can also fix the moisture source that caused the mold growth.
Problems Caused by Mold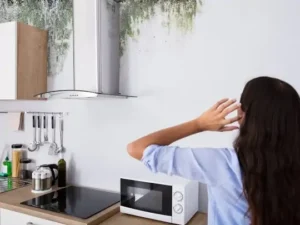 Mold growth can create a dangerous situation in homes and buildings because it is a threat to your health, and it can cause serious damage over time.  The main indoor food source for mold is cellulose which is an organic material found in wood, drywall, and other building materials.  When mold colonies form, they eat away at the affected surfaces which can cause serious damage and even threaten the structural integrity of walls and ceilings.
The potential health effects of mold exposure are another major problem when it comes to mold growth.  Those who are exposed to mold may experience symptoms such as coughing, congestion, headaches, skin irritation, and itchy eyes and throat.  If someone is exposed to mold for a significant period of time, they may experience worse symptoms like respiratory infections.
You can help limit the damage caused by mold and reduce the risk of health effects from exposure by calling a mold remediation professional right away.
Professional Mold Remediation
The technicians of RestorationMaster are certified and trained to safely remove mold growth.  We will test your property to locate all mold and we use advanced remediation methods to ensure its complete removal.  Once the mold is removed, we can repair or replace the damaged materials.
We provide the following with our mold remediation services:
Testing and evaluation of the mold growth
The results of the evaluation are given to your insurance provider
Containment of the mold to stop its spread
Complete mold removal using advanced remediation techniques and cleaning products
Restoration and repair of the resulting damage
Mold growth is a serious issue that requires immediate attention to limit its damage and protect your health.  RestorationMaster is a licensed mold remediation expert that will ensure that all mold growth is removed from your home or building.  We are available at (720) 706-8965 for mold remediation in Broomfield, CO.