Hoarding is a serious issue that can put those affected and their families in danger.  The behaviors commonly associated with hoarding are caused by anxiety and depression that make it difficult for those affected to throw anything away from their home.  As they allow the clutter of items to build, the clutter will create dangerous conditions in the home by blocking exits and pathways and increasing the risk of fires and injuries.  It is also possible for dangerous substances like mold and bacteria to form within the cluttered items which is a threat to the health of those within the home.  Before cleaning the home of a hoarder, you must first talk to the affected individual and only proceed with the cleaning when they are ready.
RestorationMaster provides hoarding cleaning services in Broomfield, CO to clean and restore homes affected by hoarding.  Our technicians understand the sensitive nature of hoarding and we work with the affected individual while treating them with compassion and respect.  The affected individual is involved with every step of the cleaning process to help remove unwanted items so we can restore the home to safe living conditions.
Dangers of Hoarding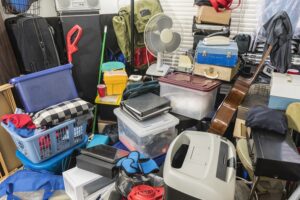 Because of the underlying anxiety and depression that cause hoarding behaviors, hoarding is classified as a mental disorder.  The individual's inability to throw anything away leads to excessive clutter build up that can block pathways and exits, making it difficult to escape if there is an emergency like a fire.  Fires are more likely to occur in a hoarded home as the materials can easily catch on fire and the flames will spread fast through the clutter.  Hoarding also allows for the appearance of mold, bacteria, and other substances that pose a threat to their health.  It is very important for homes affected by hoarding to be cleaned out to restore safe and sanitary living conditions.
If you know someone who hoards, you need to be sensitive in your approach to help them clean out their home.  Start by talking to them about their situation and expressing your concern for their safety.  This will help them realize the need to clean their home and make them more likely to go through the process.  Only after they agree to the cleaning should you call our professionals for help.
Professional Hoarding Cleaning
Our technicians take a compassionate and respectful approach to hoarding cleaning projects.  First, we meet with the affected individual to establish a mutual trust and respect.  This helps the individual become more comfortable and we will work with them to create a cleaning plan.  We will not remove anything from the home without the permission of the affected individual.  Once the unwanted items are removed, we can restore the home with thorough cleaning and disinfection.
We always follow the rules and regulations of the EPA, OSHA, and the Department of Transportation with our hoarding cleaning services.  Our technicians will help with the following:
Decontamination: We can thoroughly clean and decontaminate the home once unwanted items are removed and we can handle the cleanup of biohazard materials if necessary.
Odor removal: We can remove lingering odors with advanced deodorization methods.
Proper disposal: We will make sure that items removed from the home are thrown away, recycled, or donated and we can safely dispose of biohazard materials.
To help a loved one affected by hoarding, reach out to them to express your concern about their safety and the urgency of cleaning their home.  After they agree to clean, you can call our professionals for hoarding cleaning services. Call us at (720) 706-8965 for more about our hoarding cleaning services in Broomfield, CO.