Getting water in your home or building is always a hassle that can result in plenty of damage, especially if it is standing water.  When the water contains sewage, the situation is much more serious because the damage will be worse and there is a high risk of negative health effects.  Porous building materials and furnishings that absorb the water will also absorb the waste materials contained within the sewage which can result in extensive, even permanent damage.  It is very important to stay away from water that contains sewage to protect your health and contact a licensed professional immediately to remove the sewage safely.
At ServiceMaster SDC, we provide professional sewage cleaning services to remove water contaminated with sewage from homes and commercial buildings in Superior, WI.  We have the right materials to remove the water and moisture effectively as well as clean and sanitize affected areas to help prevent negative health effects.  We can also ensure that materials that can't be salvaged are safely removed.
Problems with Sewage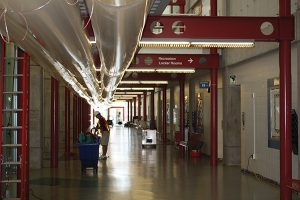 There are several ways sewage can end up in your home or building.  Natural flood waters can mix with sewage before entering the building, and a backup could occur and cause sewage to come up through a drain.  If there is a chance that the water on your property contains sewage, advise everyone to stay away from it.  Sewage can cause the following problems in homes and buildings:
Water Damage: The dirt, debris, and other waste materials in sewage get absorbed by porous building materials and furnishings along with the water. When sewage water gets absorbed, the affected materials have a high risk of permanent damage and mold growth.  Our technicians can effectively remove the sewage water and we will restore affected materials that can be salvaged.
Health Risks: The presence of sewage is a major health risk because sewage contains bacteria, viruses, and other harmful microorganisms that can cause disease or infection. Avoiding contact with the water and calling a professional to remove it right away will greatly reduce the risk of negative health effects.
Sewage Cleaning and Restoration
Our technicians are ready and equipped to safely remove water containing sewage from residential and commercial settings.  We use advanced water extraction and dehumidification equipment to ensure that all water containing sewage is extracted from the affected areas and materials.  We will then assess the condition of the damaged materials and either restore what can be salvaged or remove what has been permanently damaged.   The entire affected area will then be disinfected to remove the threat of infection or disease.  Acting quickly when you find sewage on your property will help limit the damage and prevent health issues.
If you are dealing with sewage on your property in Superior, WI, call our licensed professionals at ServiceMaster SDC for trusted sewage cleaning services.  We will ensure that the dangerous materials are removed from your property and that the area is properly sanitized to make it safe to use again.  We are available 24 hours a day at (218) 461-4434 to provide emergency sewage cleaning services.
---
Related Sewage Cleaning Services
---
Review by L.D. – Superior, WI
Water Damage Restoration
Rating

"Had a water loss on Sunday, and you responded right away. I was very appreciative and wanted to make sure I thanked everyone involved. I could not have done myself, and am glad you have on-call people."
---
Review by G.B. – Saginaw, MN
Sewage Damage Cleanup
Rating

"I had a sewage back up in my home. I am impressed with your response time, what you did, and the communication. My son enjoyed working with you. Thanks for all of your help."