The carpeting is one of the main furnishings in a home or office but it often goes unnoticed until it is significantly worn out or dirty. The daily foot traffic it experiences causes debris such as dust and dirt to get embedded in the carpet fibers and if this debris is not removed regularly, it can eventually cause the carpet to stain and deteriorate.
ServiceMaster of North Texas provides commercial and residential carpet cleaning services for all types of carpeting in Frisco, TX. Our carpet cleaning services will help extend the life and restore the original look of your carpet.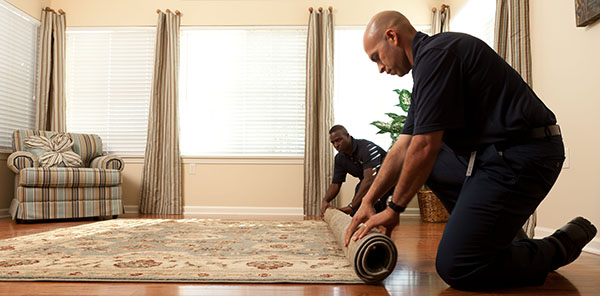 Commercial and Residential Carpet Cleaning
The dirt and debris that accumulates deep within the carpet fibers cannot be removed by regular vacuuming which is why it is recommended to have the carpet professionally cleaned at least once a year.
Our technicians have IICRC certification for carpet cleaning and we use advanced carpet cleaning equipment including truck mounted and portable steam cleaning systems to completely remove deeply embedded dirt and debris from the fibers. The process can take between 1 and 3 hours to complete and if you have area rugs or upholstery, they can be cleaned in an additional hour or two. Our carpet cleaning process is also effective for removing stains and we can provide speed drying services at no extra charge.
What to Do Before Carpet Cleaning
Remove any objects from the floor including shoes, toys, and other items.
Put your pets somewhere safe.
Let the people in your home know when the carpet will be cleaned.
What NOT to Do Before Carpet Cleaning
Do not treat your carpet with anything before our arrival because certain cleaners can disrupt the steam cleaning process.
Old stains that have not been properly treated may not be removed by the steam cleaning process.
As soon as the carpet in your home or office in Frisco, TX starts to look worn out or dirty, contact ServiceMaster of North Texas for a free estimate for our carpet cleaning services. You can call us anytime at (972) 362-0999 to schedule an appointment for your home or office.