What Equipment is Used for Crime Scene Cleaning?
When a violent accident or crime occurs on your property, it can be a traumatizing and devastating experience. This is especially the case if it involved a loved one. But no matter what the case, when your home or property is the site of such a scene, you are the one responsible for handling the cleaning; police and emergency responders won't take care of the mess.
Most property owners would think to use bleach and other basic cleaning equipment to clean the scene (possibly because that's what they do on TV), but it's not that simple. Accident and crime scenes often contain blood and other biohazard materials, which can spread disease and infection if handled and cleaned incorrectly. Because of this, it's in everyone's best interest to have professionals take care of the cleaning. For those individuals who are grieving or mourning, professional cleaning can be especially helpful, because cleaning the scene themselves might be too difficult to handle.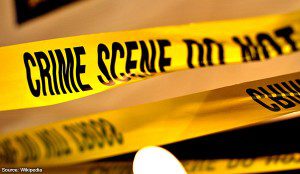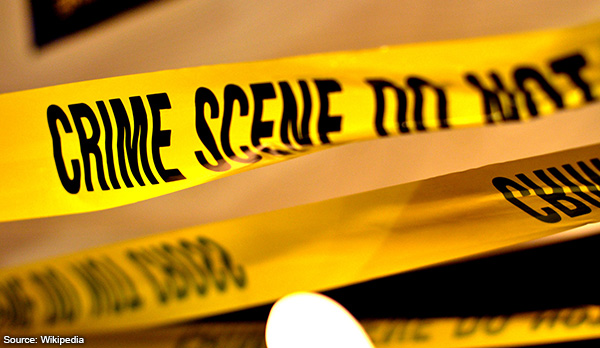 If your home or property is the site of a crime or trauma scene, then get in touch with a professional biohazard and crime scene cleaning service to have the space effectively cleaned. These professional technicians have proper training and equipment to clean trauma or crime scenes and dispose of biohazard materials in a safe manner.
Continue reading to learn more about the biohazard cleaning process and the crime or trauma scene cleaning equipment used for it.
What Equipment is Used for Crime Scene Cleaning?
When professional technicians come to your property to clean an accident or crime scene, you can expect them to use the following items:
Personal Protective Equipment (PPE)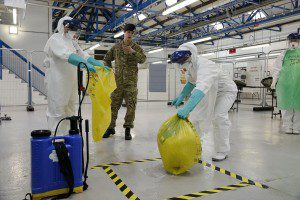 Personal protective equipment is important gear that professional crime scene cleaners use when working on a scene to protect them from harmful substances. The equipment includes a protective suit, chemical spill boots, non-porous gloves, and filtered respirators. They are all disposable and intended for one use only. When the biohazard cleaning job is complete, all personal protective equipment is disposed of immediately in hazardous waste containers.
Standard Cleaning Equipment and Products
While professionals use some specialized cleaning products, they still use the some of the same standard cleaning equipment and products you use in your own home: cleaning cloths, sponges, mops, buckets, bleach, peroxide, and more. The supplies, however, are thrown out once they've been used, for safety reasons.
Specialized Cleaning Equipment and Products
Professionals use specialized products to safely conduct their work. For example, crime scene cleaners use solvents on blood at the scene, which will re-liquefy any dried blood while also disinfecting it. All biohazard materials are placed into either hazmat bags or plastic containers designed especially to properly hold and contain biohazards. These containers also ensure harmful bacteria and pathogens are kept inside.
Sometimes these situations can result in lingering odors that are difficult to remove. Professionals can handle these smells by using industrial strength deodorizers and equipment, such as an ozone machine.
Other Crime Scene Cleaning Tools
Some of the other tools crime scene cleaners might use include long-reach cleaning brushes and ladders, if there are any tall walls or ceilings they need to address. If organic matter is left behind, they can remove them from hard surfaces by using a putty knife.
Upholstery, carpeting, or other fabrics can become saturated with blood or other biohazard materials. However, it is not always possible to thoroughly clean them, so they need to be removed. In such a case, box cutters or razor blades are used to cut out the affected areas.
What Does the Crime Scene Cleanup Process Include?
Property Assessment
Professionals will come to your property dressed in their personal protective equipment to assess the scene. They will then inspect the place to figure out what biohazard materials are involved, which lets them know how to clean the property and dispose of the biohazard materials properly.
Biohazard Removal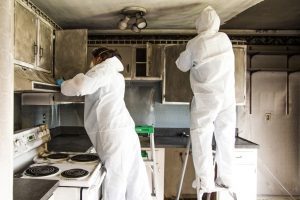 Biohazard cleaning professionals will proceed by removing any and all biohazard materials from the scene. This not only includes blood, bodily fluids, tissues, and other biohazards, but also the items and objects that were contaminated by biohazards. They are placed into approved containers and disposed of at the proper facility. It's important to use the correct containers because such containers keep the biohazards from leaking or spilling, preventing their harmful bacteria and pathogens from spreading.
Cleanup and Disinfection
The scene will be cleaned, disinfected, and deodorized. These three steps will ensure that no harmful bacteria remain in your property, and that no foul orders linger.
Professional Biohazard Cleaning and Crime Scene Cleanup
If your home or business is the site of a violent crime or accident scene that involves biohazard materials, then you must get professional help right away. The property owner, not the emergency responders or law enforcement officials, are responsible for having the scene cleaned. However, you should never clean it up yourself, because improper handling and cleaning of biohazard materials can spread infection and disease.
Instead, get in touch with a professional biohazard cleaning and crime scene cleanup service. Their professional technicians are trained and equipped to properly handle and clean biohazard materials, doing so in a way that minimizes the potential for harm.