9 Safe Uses for Vinegar
Vinegar is great to use when preparing meals, but it is more than an ingredient. It is a versatile product that doubles as an effective cleaner.
While there are various cleaning products available, many are filled with strong chemicals that can be harsh to use and potentially unsafe to humans. Vinegar, in contrast, is cheap and safe for humans and the environment. Knowing this, do not hesitate to use vinegar for your house cleaning needs when possible.
Continue reading to learn more about cleaning with vinegar and other safe uses for vinegar.
1. Cleaning Dishes
If you use a dishwasher, you can use vinegar to aid with the cleaning. Your dishwasher may do a satisfactory cleaning job but adding vinegar can leave things like glassware in a more pristine condition. To do this, use the regular cycle and your normal amount of dishwashing detergent. Add 1 1/2 to 2 cups of white distilled vinegar at the bottom.
You can also use vinegar to clean the dishwasher itself. Run your empty dishwasher on a short cycle with a cup of white vinegar. This removes the soap accumulation and helps the dishwasher run more efficiently.
2. Cleaning the Microwave
Use vinegar to clean your microwave by creating a solution of 1 cup water and 1/4 cup white distilled vinegar. Warm this mixture in the microwave until it comes to a boil and leaves steam on the window. Finish by wiping away any food bits and residue.
3. Floor Cleaner
If you are not a fan of having to rinse off your floors after cleaning them, then cleaning with vinegar is for you.
Make a solution of 1/2 gallon warm water and 1/2 cup white distilled vinegar. Mop down your no-wax flooring with this mixture. Once the water becomes dirty, create a new solution.
4. Cleaning the Bathroom
People use bathtubs and showers to clean themselves, but as you use them, grime and other dirt accumulates. Eventually, these need to be cleaned. Oftentimes, people use harsh chemical cleaners to tidy up their bathrooms, but vinegar can be just as effective.
Shower doors are known to accumulate soap scum. Prevent this buildup by soaking a sponge in white distilled vinegar and using the sponge to wipe the door down.
Bathtubs eventually develop a film after several uses. Clean this off by wiping the tub with white vinegar. Repeat this step with baking soda, and then rinse down the tub with clean water.
Your showerhead may also need some cleaning if it has mineral buildup. Vinegar can help by dissolving the accumulation. Simply place the showerhead in a plastic storage bag and add 1 cup white distilled vinegar to it. Let the showerhead soak in the vinegar overnight. Rinse it down the next morning.
5. Washing Windows and Blinds
To use vinegar for window cleaning, create a mixture of equal parts water and white distilled vinegar. Apply this solution to the windows with a sponge, and then take a wet squeegee to wipe them down.
If you have washable blinds, clean them by creating a mixture of 1-gallon warm water, 1/2 cup white distilled vinegar, 1/4 cup baking soda, and 1 cup ammonia. Wipe the blinds down with this solution, using either a cloth or sponge. Afterwards, rinse them down with clean water.
6. Cleaning Metals
Vinegar can help remove tarnish from brass, copper, and other metals in your home.
Mix together 1/2 cup white distilled vinegar and 1 teaspoon salt. Add flour until the mixture turns into a paste. Spread this paste on the metal surface and leave it to sit for 15 minutes. When the 15 minutes are up, rinse it off with clean water. Then dry off the surface and polish it with a dry cloth.
7. Pet Care
Dogs and cats are prone to having itchy ears, but vinegar can help limit this discomfort. Just dilute the vinegar by creating a solution of 4 parts water to 1-part white distilled vinegar. Then, soak a clean rag in the mixture, and use it to wipe your furry friend's ears.
8. Extend the Life of Cut Flowers
Having a vase of flowers can add some nice color and plant life to your home, but they do not last long. However, you can use vinegar to extend their lifespan.
In addition to water, add 2 tablespoons of white vinegar and 2 tablespoons of sugar to the flower vase. The vinegar will act as a biocide while the sugar acts as a food source. When the water gets cloudy, change it out and trim the flower stems.
9. Stain Removal
Enjoying a nice glass of wine can be a relaxing way to end the night, but that mood can be ruined if the wine stains your clothing. Vinegar can treat wine stains on cotton and cotton/polyester fabrics if you act quickly.
Within 24 hours of the stain occurring, blot white vinegar onto the stain with a sponge until it is removed. Then wash the clothing item as directed on the care label.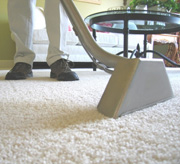 If white or other light-colored clothing items have underarm stains from antiperspirant or deodorant, apply some vinegar to the affected areas. Throw the items in the wash, retreat if necessary, and then dry them out in the sun.
Professional House Cleaning Help
From house cleaning to pet care, there are many safe uses for vinegar beyond meal preparation. However, vinegar cannot clean everything and may not be a plausible solution for certain cleaning jobs such as general carpet cleaning.
Knowing this, clean with vinegar when you can, but do not hesitate to reach out to professionals when you need help with carpet cleaning and other bigger house cleaning tasks. Professional cleaners have the industry's best equipment and products, ensuring your carpet and rugs are restored to near-new conditions.