Ease Your Emotions for a Smooth Move
Moving is not an easy task. It is stressful, heavy lifting, frustrating and nerve wracking. You have kids who are in the way and unpacking the things you have sealed into boxes. The moving company presses you on extra charges for tasks they didn't fulfill. You have packed your vitamins but have no idea where. There are a thousand things that can go wrong and everything will probably not go as smooth as you thought.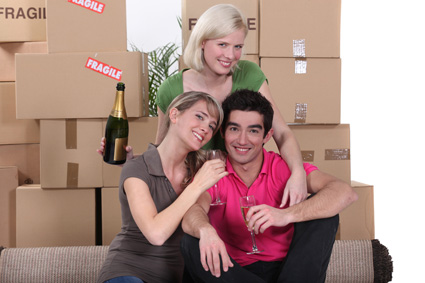 Here is some advice on how you can ease your emotions and make the moving a better experience. You probably know yourself and your family better than anyone so it is smart to plan things in advance. Maybe your partner succumbs after three hours of packing or maybe your teenage daughter hates all the boxes in her room. Before even doing anything, you should have a to-do list. Make sure everyone knows that you are moving so it doesn't come as a shock to anyone and so you don't have to inform everyone at the last minute. Also inform your post office, banks and utility in time so your bills and letters come on time so that you don't have to deal with delayed payment penalties.
Make sure that you have enough money to do this. Do a schedule where you list everything that might cost you and look over your budget. Money is always a stress factor but if you have an idea on how much you are going to spend and have a starting budget that reaches over that amount you should be fine.
Packing is also a stress factor but it doesn't have to be if you are well organized. Make a list and pack each room and label the boxes so that when you unpack, you can find each item easily. Sort out your personal items, where you first of all get rid of everything that you do not need. This will give you a refreshing feeling. You can get some extra money out of it all and sell some of the things that are still useful and recycle the items that are broken. When that is done you will be left with only the things that you are going to bring to your new home and this is when you should start getting ready for packing. Start your packing as early as you can start sorting things and plan on how you are going to pack them. I suggest that you pack the things you use not so frequently first and then go from there. A big no no is to wait to pack everything until the day you move. On that day you should only focus on the actual moving of the items. The packing should happen in advance and as said before, always remember to label the boxes.
Also, try and ask for help from as many people possible. Friends and family are always happy to help, whether it is unpacking, planning, driving, lending you their cars there are always something they can do. Maybe some of them have been through the same experience as you are so to let them give you advice on what to think about is probably a good idea. To look for previous experience you could always look on the internet. There are many forums and communities where you can ask questions or be in contact with other movers.
Moving is taking a big step in your life and it will be a stressful time, even if you have thought this through carefully. Make sure you have friends and family close and stay organized and everything will go well. Good luck.
Read more at: http://www.movers.org.uk/house-removals/