Keeping Pets Safe from House Fires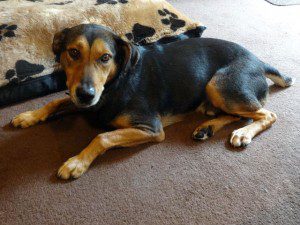 Pets are not just animals; they are family. Therefore, we must take measures to protect all loved ones dear to us. Pets, especially dogs, can pose the greatest risk for house fires, especially while you are not home. According to the American Kennel club, about 1,000 house fires are accidentally caused by pets each year. However, here are some steps you can take in order to prevent your furry family member from causing a house fire:
Secure/Remove all stove knobs. Believe it or not, turning stove knobs is the number one medium for house fires caused by pets. As they may be interested or curious about food or smells left on the stove, they can accidentally turn the knobs, causing any materials over the to catch fire. Finally, before you leave for work each morning either have them removed, or make sure they are properly secured.
Use flameless candles. If the kids or dogs are running around the room, any burning candles can easily be knocked over and spread quickly. In an active house, flameless candles are a must in order to keep all occupants safe. Although candles with light bulbs may not appear to be as aesthetic as the real ones, they are considered to be much less of a fire hazard than their counterparts. However, if you really prefer to use real candles, be sure to supervise all kids and pets when using them.
Cover fire place appropriately. Obviously, you won't keep a fire burning while you are not in the house. However, be sure to keep the fireplace properly secured while in use. The smallest spark, wood chipping, or coal can fly out, either landing in the carpet or in your pets' hair. While sleeping in front of the pit may seem warm and comforting it is a huge fire hazard. It is also always best to use gas fireplaces instead of woodburning as it is not as prone to send any flying particles.
Safety Measures for Pets
Clear away any bushes, plants, or brush for livestock to escape should a fire occur in a barn or housing pen.

Place a sticker on your front window to inform any firefighters the number of pets you have living in your home so they can remove them safely.
Ensure your pets are wearing either a collar or harness to handle them safely during a fire. Keep a leash close to your front door should the firemen need it to escort your pets from your home.
Practice fire escape plans with pets so they are familiar with the process of how to safely exit the home should a fire occur. If they must be in a cage during the day, be sure to place it near the front door or exit so they can easily be removed and escorted/carried outside.
Dealing with the Damage from a House Fire

If you have already experienced a house fire and everyone is safely evacuated, be sure to call for help right away. Immediately after calling the fire department, fire restoration professionals must be called to clean up the mess. In addition, fire damage restoration technicians can also save your house from incurring additional damage as the smoke and soot will cause etching and tarnishing to the building structure of the home. Contact your nearest ServiceMaster for more information about emergency fire damage repair services.