8 Mistakes to Avoid When Cleaning your Carpet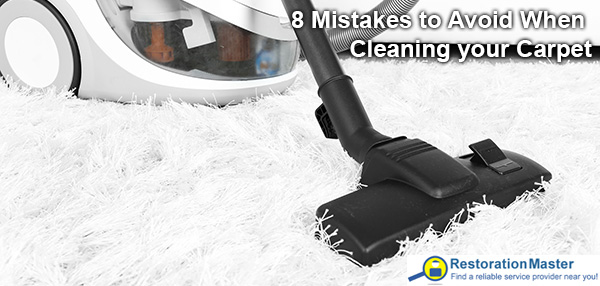 Stains in the carpet are a frustrating sight for homeowners and when they remove a stain themselves only to have it reappear a few days later, this can be even more aggravating. This is a very common occurrence among homeowners who attempt their own carpet cleaning mostly because they lack the expertise and experience of a professional carpet cleaner. Not only are DIY carpet cleaning methods sometimes ineffective, but carpet cleaning mistakes can also cause damage to the carpet that can greatly shorten its life. The following are 8 common carpet cleaning mistakes identified by the IICRC that homeowners must avoid when cleaning their carpet.
Excessive Scrubbing: When there is a stain in the carpet, the tendency is for homeowners to scrub the stain to try and remove it. You should avoid excessive scrubbing of a stain in the carpet because it is an ineffective way to remove stains and the scrubbing can cause damage to the carpet fibers which will seriously compromise the life of the carpet. The best method of stain removal for carpets is blotting.
Slow Reaction: As soon as you notice a stain on your carpet, it is important to take action because the longer a stain is allowed to sit, the more difficult it is to remove. Ignoring a stain will also give it more time to soak into the carpet and the pad beneath it. When this happens, the risk of mold growth and odor increases.
Inappropriate Cleaning Products: Each type of carpet needs to be cleaned with different cleaning solutions that best suit the materials. Using a cleaning solution that is not suited for your particular type of carpet could cause damage and discoloration. You must do some research when buying carpet cleaning products to make sure that it is the right product for your particular carpet.
Testing Cleaning Products: Because the wrong type of cleaning solution can cause irreversible damage to your carpet, it is important to test any cleaning solution on a patch of your carpet in a hidden area. Do not apply a cleaning solution to your entire carpet until you know how the carpet will react.
Use of Deodorizing Powders: Deodorizing powders can be effective for removing bad smells from your carpet but they should never be used as a substitute for cleaning. Overuse of these powders can also cause buildups in your carpet, especially if your vacuum does not adequately remove them.
Overuse of Chemical Cleaners: Too much chemicals on your carpet can lead to significant damage and residue so try to avoid saturating your carpet with chemical cleaners.
Avoiding Professional Cleaning: It is generally recommended by carpet manufacturers to have carpets professionally cleaned once every 12 to 18 months for proper maintenance. Dirt, dust, and other debris gather deep in the carpet fibers and it takes professional carpet cleaning services to remove this deeply embedded debris. These services will help extend the life of your carpet and improve its appearance.
Renting Bad Cleaning Equipment: Most homeowners do not have the right equipment on hand to clean their carpet but this equipment can be rented. However, rental carpet cleaning equipment does not always help as poorly serviced machines can break down or damage your carpet by using too much cleaning solution.
If you enjoy DIY projects and want to clean the carpeting in your home yourself, make sure to avoid these 8 common mistakes that can actually make the condition of your carpet worse. If you do not feel comfortable cleaning the carpet yourself, contact a carpet cleaning professional to do the job right. Keeping your carpet clean and maintained will not only improve the look and the life of your carpet, but also improve the look of the interior of your home.