How to Repair and Refinish Countertops
Repairing countertops involves working with laminate materials.  Overtime, these materials can start to come loose or bubble, or they can become scratched from repeated use.  In all cases, laminate glues and resins are used to remedy the situation.
Refinishing Laminates with loose edges
If your countertop's laminate covering has started to come loose at the edges, you can simply re-glue it by following these steps:
1.  Carefully lift up the loose section of laminate.
2.  Remove any loose debris with a dry cloth or putty knife.
3.  Apply the appropriate glue to the countertop's understructure using a glue gun, syringe, and/or putty knife.
4.  Push the loose section of laminate back down onto the glue.  Roll flat with a laminate roller.
5.  Ensure level drying by placing something of uniform weight on top of the re-glued laminate, such as a few text books.  If you are refinishing a vertical section of laminate, you will need to use a locking clamp.
Repairing Laminate Bubbles
If your laminate countertop or bathtub is exposed to excessive heat, it may start to bubble up.  Repairing such bubbles is much more difficult than re-gluing loose ends.  To repair laminate bubbles, you can attempt the steps outline above for refinishing loose edge, making sure to roll the bubble flat with a laminate roller.
If this doesn't work, or seems like to it would be too difficult, you can also try to find a sheet of laminate replacement.  Common laminates can be repaired by removing the bubbled section and simply replacing it with a new section.  The seams are then filled with colored resins, as outlined in scratch repair below.  Keep in mind, however, that this process only works if you can find an exact laminate match.
Repairing Laminate Scratches
Overtime, even the toughest laminates with begin to show signs of wear.  The most common cause of this is in the kitchen, when knives scratch laminate countertops.  Fortunately, scratched laminate countertops don't always need to be replaced.  Instead, they can be repaired with resins, which are thin drying liquids that fill the scratches as if they were cracks.
To repair laminate scratches with a resin:
1.  Find an appropriate color match.
2.  Treat the scratched area with a cleaning solution and cloth.  Wipe dry.
3.  Follow directions on container, applying resin accordingly.  You will likely need a putty knife.  You will also need to take note of the resin's dry time, and whether it needs to be sanded.
Resurfacing and Refinishing Training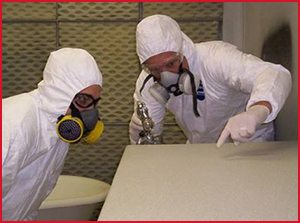 As you start to attempt laminate repair work or refinishing on your own home's kitchen countertops or bathtubs, you may find that it is actually a bit more complex than the simple steps outlined above.  If it's just too difficult, you may need to consult a professional.  If, on the other hand, you just need a little hands on guidance, consider a professional refinishing training class.  You might be surprised with what you'll learn, and you can even apply your new skills as a way to generate income on the side.