How to Choose a Window Cleaning Company
Interior and exterior window cleaning is part of basic building maintenance. Many homeowners decide to hire a professional window cleaning crew rather than do the job themselves, in addition to other spring cleaning activities. Hiring a professional, reliable window cleaner is worth the extra time you'll need to spend screening several companies.
Get Several Quotes
The first step in choosing a window cleaning company is to contact several window cleaning companies in your area. Each company should send a uniformed representative to your home to inspect the windows and speak to you about any specific concerns you have before giving you a written quote.
Avoid signing a work contract on the spot. A company who pressures you to hire them without giving you time to think it over may not be one you'll be satisfied with for years to come.
Ask for Proof of Insurance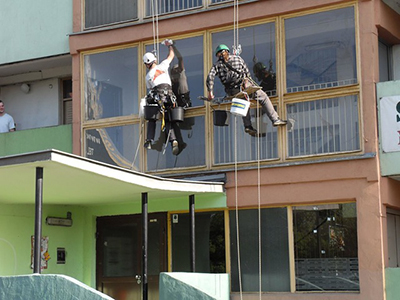 Any window cleaning company should carry both liability and workers compensation insurance for all of its employees. This protects you in case a window cleaner is injured while working on your property. It also ensures that any damage caused by the window cleaners will be covered by their insurance.
Check References
Ask for references from several of each company's local window cleaning clients. They should be able to easily provide a list of three to five satisfied clients for you to call. Take the time to call several references from each company you are considering. Ask them specific questions about the quality of work, timeliness, and reliability of the window cleaning company.
Make Your Own Decision
Compare each window cleaning company's references, price, and services, and decide which one makes the most sense for you. If you are dissatisfied with your original choice, do not be afraid to cancel the service and hire another company on your list the next time you need your windows cleaned.