How Long Do Commercial Roofs Last?
The health of commercial buildings, in part, depends on the type of commercial roof installed. In turn, the type of commercial roof installed plays a role in how long the roofing system endures. While a commercial roof can last from 10 to 40 years, three main factors affect its longevity.
1. Weather
The integrity of a commercial roof is largely affected by inclement weather. Over time, harsh climatic conditions wear down a roof, resulting in degradations to the roofing system. However, preventative roof maintenance and prompt repairs can lengthen the lifespan of a commercial roof.
The freezing ice of winter can wear down a commercial roof rapidly. Up to 60 pounds are added to every cubic foot of the roof when water freezes. When water thaws, the moisture seeps into gaps and refreezes; the expansion leads to small cracks opening up and causing leaks.
When summer's blistering temperatures descend, they can also wreak havoc on a commercial roof. The intense seasonal heat can harm the roof's sealant materials. Roofing systems undergo swelling and subsequent weakening when climatic conditions combine high humidity with high temperatures.
Autumn weather, too, does its share of damage to a commercial roof. Decomposing leaves that settle onto the roof can trigger the growth of mold and other fungi. Tree leaves may fall into gutters, blocking them and potentially causing leaks. The season's falling branches can puncture roof shingles.
2. Type of Roof
Aside from weather conditions, a second factor influences how long a commercial roof will remain functional: the type of roof. Building managers may choose from flat roofs, low-sloped roofs, and pitched roofs. Each come with pros and cons that affect longevity.
Although flat roofs are quicker and more economical to install (due to less square feet of roofing material), inadequate drainage is a chief culprit in rapid roof degradation. Standing water on the roof can weaken structural materials and result in leaks inside the building.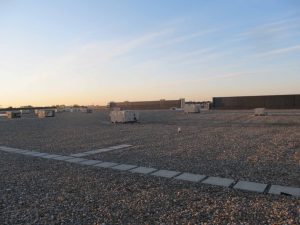 In direct contrast to flat roofs are low-sloped roofs that promote water runoff. Without the possibility of standing water damaging the roof, low-sloped rooftops require fewer repairs and replacement. However, when heavy snow fails to rapidly melt, substantial weight is added to the low-sloped roof.
While commercial pitched roofs are uncommon, they are still utilized in conjunction with flat and low-sloped rooftops. Pitched roofs aid in greater water runoff. However, considering its steep slope, repairs and maintenance are difficult and costly to perform, which can impact the roof's lifespan.
3. Roofing Materials
The choice of roofing materials is also integral to the life expectancy of a commercial roof. Common roofing materials include a PVC roofing system, a TPO roof system, an EPDM roof system, a metal roof system and an asphalt roofing system.
PVC roofs endure for 20 years or more. The life expectancy of TPO roofing systems is 22 to 30 years. EPDM roofs are known to last 22 to 35 years. Metal roofs offer 30 to 45 years of reliability. Asphalt roofing systems can last anywhere from 20 to 40 years.
Polyvinyl chloride (PVC) roofing materials come with a high upfront cost. However, the energy-efficient PVC materials feature fire retardant properties. In the event a fire breaks out, the PVC membranes self-extinguish; consequently, the roof requires less repairs, which helps to increase its overall lifespan.
Thermoplastic polyolefin (TPO) is among the newest commercial roofing membrane styles. Due to this very fact, TPO roofing materials have not yet shown how well they withstand the test of time. But TPO roofs are a more cost-effective alternative to PVC roofing materials.
Ethylene Propylene Diene Monomer (EPDM) rooftops feature a rubber membrane, which increases its lifespan. Extremely durable, the EPDM roofs are known to undergo limited deterioration, even under harsh conditions. After 60 years on the market, EPDM roofs have proven to be reliable.
Metal roofs are cost-effective to install and have a reputation for enduring a lifetime. A metal roof retrofitted over an existing one can increase its lifespan by up to 20 years. With metal roofs, the type of metal used, the roof's slope and metal finish largely affect its true lifespan.
Asphalt shingle roofs are reputed to have lengthy lifespans, especially with installations of steep-slope shingle roofs. Also affecting its longevity are the quality of shingles used and whether or not a low-sloped system is installed. Frequent maintenance is a major factor in the longevity of asphalt rooftops.
Choosing the right roofing material is critical to increasing the roof's lifespan. Where wildfires are rampant, fire-resistant PVC roofing styles are suitable. A metal retrofit roof can extend the life of an already-damaged roof. The reflective nature of TPO roofs deters heat, making it ideal for blistering geographic areas.
Work with a Commercial Roof Contractor
Performing regular maintenance and roof repairs allows a commercial roof to endure, regardless of the weather, style or roofing materials used. The quality of installation is also a chief factor in furthering the roof's lifespan. When seeking excellence in roof installation, turn to Reliable Roofing.
Repeated clashes with nature's harshest elements can take its toll on any roof. Reliable Roofing's crews will repair any damaged roof and return it to a sound condition. In addition to commercial roof repair, our highly trained technicians offer replacement, maintenance, installation and construction services.
Reliable Roofing's crews are experienced in successfully servicing a wide range of commercial facilities, including office buildings, warehouses, restaurants, schools and hospitals. Our skilled workmanship has earned the trust of countless business owners and property managers in the surrounding areas.
Reliable Roofing is also a proud member of the National Roofing Contractors Association (NRC). We are fully licensed and bonded to deliver maximum peace of mind to our business customers. Reliable Roofing is also known for our use of the best industry materials in every project, including Turbo-Set Roof Coating.
Large and small businesses in Lake Zurich, IL, turn to reliable and trusted roofing contractor. When you need a commercial roofing contractor, look no further than Reliable Roofing for the most dependable roof maintenance, repair, construction and installation services.