Five Renovation Tips for Your House After A Natural Catastrophe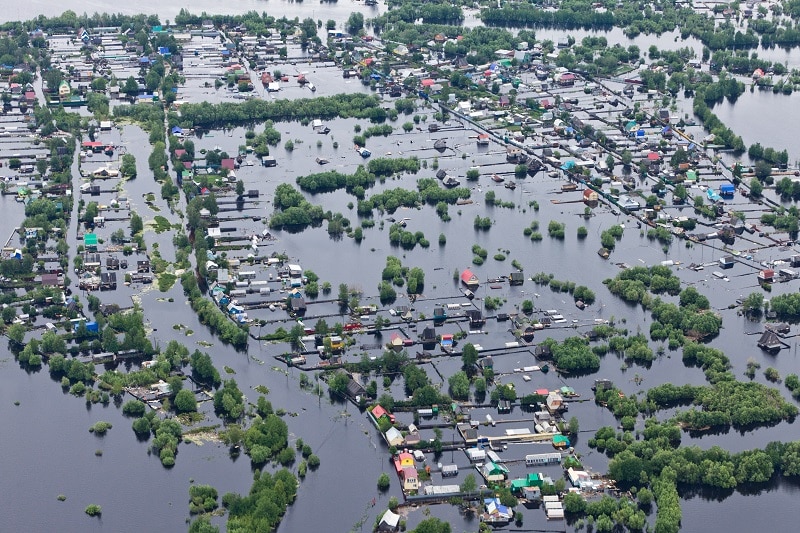 Humanity has not yet learned how to prevent natural disasters.
In this regard, we are almost entirely dependent on the weather, climate, and natural disasters that often occur where they were not expected.
Let's figure out what to do if your house has been flooded.
Flooding can happen anywhere in the U.S. due to heavy rain and major storms like hurricanes. Wherever your house and plot are located, the scheme of actions will be approximately the same if it has suffered from flooding.
Important! After the flood, local authorities set up commissions that assess the extent of damage to buildings. Suppose your house has been declared not subject to restoration. In that case, you should set up either to move to a new housing allocated by the authorities or to receive appropriate compensation and restore the building, often from scratch.
Patience
At the first stage, the most relevant advice is – be patient! The water will not disappear instantly, and the site and the house must dry out before you start restoring. Even with luck and good sunny weather immediately after the flooding, it may take a week or two before you can calmly walk around the site to see with your own eyes the consequences of the arrival of "big water."
Employees of FEMA, arriving at the scene of natural disasters, assist in pumping water from basements and buildings. For this, they have the appropriate equipment. But you can do this process yourself with the help of a small pump to drain the water to speed up the drying of the house.
Important! Experts unanimously advise documenting everything that you see on the site and in the house immediately after the flood. Pictures, videos – all this can help you get insurance or draw up compensation from the budget corresponding to the damage.
Turn everything off
It is crucial to immediately make sure that gas, electricity, and the water supply are turned off in a flooded home, including HVAC equipment. On the scale of the entire settlement, the appropriate services should be engaged in this, but you can also monitor the situation in your own home, ensuring that the gas valves are closed, and the electricity is turned off. Remember that supplying electricity to a flooded building is life-threatening.
In the process of examining the flooding in your home, you will need rubber boots and gloves. Some experts advise using a respirator because garbage containing harmful chemicals may have entered the site because of sewage.
Save your valuables
The process of rebuilding a home after a flood begins by saving furniture and other items that can be moved. Be sure to dry wood and upholstered furniture, carpets, and personal items. Conduct an inspection – what cannot be restored, throw it away, the rest can be left in the yard for now, under the sun's rays and wind, to dry out. Then see how severe the effects of the water will be. Chipboard furniture, most likely, cannot be saved.
At the first stage, the site itself will need a general cleaning – the streams of water have brought a lot of garbage, so you will have to get rid of it. You may need the help of specialists to remove, for example, fallen trees and take out a ton of soil brought by the water. You can and should ask for support or call a water damage restoration expert.
Inspect the floors and walls
The floor covering will most likely not be salvageable. Experts say that some parquet and massive wooden boards can survive if they are dried on time and the exposure to water was not too long, but not laminated material. Such a floor will have to be torn off to the ground. Ceramic tiles, porcelain stoneware, and concrete floors are best able to withstand flooding.
Be sure to check the condition of the wooden panels if they are the basis of your floor! Inspect the entire foundation for possible cracks. The facade, decorated with metal, plastic, or acrylic siding, natural stone, or facing bricks, could well have survived the flood, but the plaster and paint may have to be updated.
As for the inner walls, you should pay attention to the lower level, to which the water has reached. If you had drywall in your house, say goodbye to it. Such wall cladding would not withstand direct exposure to water unless moisture-resistant options were used. But even this option should be checked.
Some experts believe that you can save money and only remove the affected part of the drywall. However, it's still worth thinking about the possibility of a complete change of coverage for reassurance.
Disinfection
Take care of cleaning and disinfecting your dry house. Many harmful substances could have been brought to you, so it is advisable to treat all the surviving parts with antiseptics and other antibacterial agents. Remove the wallpaper if you have it. It is not too expensive to re-glue them, but you should check the condition of the walls under them and treat the surface with antifungal agents that will prevent the appearance of mold.
Checking windows and doors
A unique electric or gas heat gun will help dry the house faster, but experts advise not to use such devices without urgent need – quick drying can destroy layers of plaster and insulation.
Wooden windows and doors are more likely to be replaced, but plastic is more tolerant to flooding. In any case, check windows and doors for displacement, deformation, or bending. Small defects can be eliminated.
Sawdust and mineral wool would not withstand direct exposure to moisture if they were used as insulation. It is better to remove them and re-insulate them. Otherwise, you can get a source of dangerous mold and mildew.
Conclusion
Before attempting to restore order and repair everything, you need to assess the water damage and develop a recovery plan. A well-organized approach will help you make the best use of your time and money. If your home is significantly damaged, ask yourself a question: Would it be more rational, safer, or cheaper to relocate? Home repair and restoration work should be carried out by specialists with the necessary knowledge and experience, but you can take the first steps to save your home yourself.
As at the very beginning of the article, we advise you to be patient!