What Does Fire Restoration Mean
Fire Damage
When a fire strikes a home, the very first priority is to extinguish the flames and make sure that all occupants of the house are safe.  However, once the fire is put out and everyone is accounted for, you are left with a heavily damaged home that is unfit for living.  Fire damage restoration is the act of cleaning and restoring property as well as personal belongings that have sustained smoke or fire damage.  The goal of fire damage restoration services is to salvage damaged items and restore your home so that it can once again be inhabited.
Fire Damage Restoration Services
Companies that specialize in providing fire damage restoration services use advanced equipment and cleaning products to remove soot or smoke damage as well as odors from various surfaces and salvage personal items.  They may also help the homeowner make decisions regarding the repair or replacement of certain elements of their home.  The HVAC system requires either thorough restoration or total replacement because after a fire it could release smoke and soot particles in the air.  If the HVAC system is not restored or replaced, the soot particles it releases could contribute to respiratory problems and other health issues.
Fire Damage Restoration
Another important element of fire damage restoration is the removal of burned structural components such as walls, ceilings, and floor coverings.  The structural framing materials and components throughout the home are thoroughly inspected and replaced if any charring or warping is discovered.  If the structural components are salvageable, they are treated with deodorizers to remove any smoke odor.  The structural components are then left to dry completely before they are sealed and covered with new drywall and paneling.  It is important to remove the odor before installing new drywall and panels otherwise the odor will continue to leak out into the home.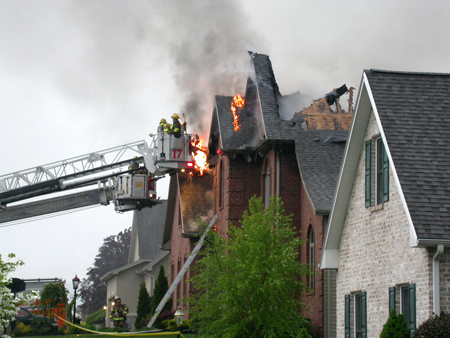 During the fire restoration process, companies may use one of several methods for neutralizing the odor throughout the home including ozone deodorization or wet or dry fogging.  Deodorization is typically done in the areas with the least damage first, progressing to more damaged areas as the process continues.  It is best to have a specialized professional carry out the deodorization to prevent health hazards or further damage to the property.  The home is aired out during and after each phase of the restoration process to reduce the volatile organic compounds (VOCs) from the new materials.  All removable personal items can be submitted to the fire damage cleanup and restoration provider for full offsite restoration.
If your home has been heavily damaged in a fire, it is important to call for fire damage restoration services immediately to help limit the damage and salvage your home.  Fire damage restoration is a tough job that is best handled by specialized professionals to ensure the best possible results.  By acting quickly and securing fire damage restoration services, you can help get your life back on track after such a devastating event.