Biohazard and Crime Scene CleanUp Guide
No one plans to face a crime scene or biohazard situation in their home or office, but when a crisis arises, you will be better equipped to handle it if you know what to expect. Biohazard and crime scene cleanup crews handle a wide range of situations from violent deaths to sewage back ups and foreclosure clean out projects.
What to Expect from Biohazard and Crime Scene Clean Up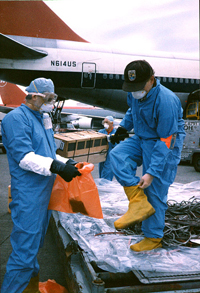 You have the right to expect a biohazard and crime scene cleanup crew to behave professionally, and to be sensitive to the emotional, as well as the physical damage that has been done.
When a biohazard and crime scene cleanup crew arrives, they will bring all of the supplies and equipment they might need, including hospital grade disinfectants and cleaning supplies, protective gear, biohazard waste containers, and other tools.
The crew will clean and disinfect every surface and object in the affected area. Depending on the situation, they may need to rip up carpet and remove drywall and cabinets. Their primary goal will be to remove any substance that could harbor bacteria and germs. After that, they will work to restore the area to the state it was in before the biohazard or crime incident occurred.
Biohazard and Crime Scene Clean Up Cost
The cost of a biohazard or crime scene cleanup can vary widely depending on the nature of the situation and what needs to be done.
The major factors that contribute to the cost of a biohazard or crime scene cleanup are the amount of hazardous material to be disposed of and the scope of the work. The cleanup crew will include waste disposal and transport fees into the total cost of the cleanup project. If the entire room or building has to be gutted, as is often the case with a methamphetamine or other illegal drug lab, the costs will be significantly higher than a cleanup that is limited to a small area.
Choosing a Biohazard and Crime Scene Clean Up Provider
Speak with your homeowners or business insurance agent to get a referral for a biohazard or crime scene cleanup provider. If the cleanup crew works directly with your insurance company, you may not have to pay anything out of pocket.
If your insurance company does not have a preferred provider, look for a local company with a strong reputation. Ask the police officers or other first responders on the scene who they often work with. They see this type of situation all too often, and can tell you who the best cleanup crews in your area are.