8 Cooking Safety Tips to Prevent Fires
Cooking is a valued skill because it allows people to prepare necessary meals for themselves and their families. However, cooking can also be an unsafe activity if you are not careful. With the use of high temperatures, heat, and oils, cooking mishaps can easily lead to a fire. Knowing this, it is important to practice kitchen safety. The last thing anyone wants while preparing a meal is to start a fire in their home.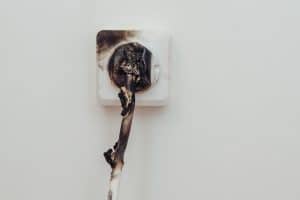 Kitchen fires are just one safety concern when it comes to cooking. Spills can cause slips and falls, and sharp knives can cause injuries. These events may not directly lead to a cooking fire, but they can contribute to one. For example, if someone slips and falls, they could knock something over into an open flame, causing a kitchen fire. If someone cuts themselves while using a knife, they may become distracted and forget about what they're cooking on the stove.
To prevent cooking fires and other incidents, refer to the following cooking safety tips.
1. Never Use Damaged Appliances and Equipment
Before using any appliances and equipment, check that they are in good condition. Look at the cords, wires, and plugs for your kitchen appliances and electronic equipment. If you find any signs of damage, do not use them because their faults could result in a fire. Instead, get rid of these items and buy replacements.
2. Monitor Cooking
When cooking, never leave food unattended. This is especially the case when using the stove. Constantly monitoring the food will limit the potential for a disaster, such as a fire.
For example, a pot with cooking oil that is left on the stove for too long can easily burn and cause a grease fire. If no one is there to monitor the stove, a grease fire can quickly get out of hand. But with someone attentively cooking and watching the stove, the oil can be kept at the proper temperature for an appropriate amount of time.
3. Wear Appropriate Attire
While cooking, being comfortable is important, but you still need to be smart about the attire you choose to wear. Loose clothing and accessories and long hair can easily catch fire while cooking. Instead, wear more fitted clothes and avoid wearing loose accessories like bracelets. If you have long hair, tie it back as well. You do not want your hair catching fire, and no one wants to find hair in their food either.
4. Keep Flammable Objects Away from Heat
Be mindful of where you place and store flammable items in your kitchen. While you want to have oven mitts, potholders, and dish towels nearby while cooking, keep them a safe distance from the stove. You don't want them to accidentally be exposed to the flames and catch on fire.
5. Be Careful with Hot Items
When handling hot pans and pots from the stove or oven, always remember to protect yourself. Use oven mitts and potholders. Failing to do so can cause you to burn yourself, and you may drop the item and cause a more serious incident.
6. Childproof the Kitchen
Young children often don't know any better when it comes to kitchen safety. They are curious but unaware of the dangers a kitchen presents, including heat, oils, knives, and even cleaning supplies. Because of this, you should childproof the kitchen if you have kids at home. Install child locks on drawers and cabinets and keep dangerous items and supplies out of children's reach.
7. Maintain a Clean Kitchen
If your kitchen is messy, it may feel like a chaotic, stressful environment. A clean kitchen makes it easier to stay focused on cooking and keep track of things. You don't have to worry about finding things or about any messes in your way. It also minimizes the potential for accidents.
For example, if you are done with a knife, don't leave it out on the counter. Place it in the sink right away. You do not want it to sit out and potentially cause an accident. The same goes for any dirty dishes you're done using. Don't let anything sit out only for it to get in the way later.
Take out only the supplies and ingredients you need and put them away once you are done with them. Throw scraps and other garbage out promptly so they are not in the way. Clean up any spills right away so no one slips and falls.
8. Be Careful with Sharp Tools
One of the most important cooking safety tips is to be careful when using knives and other sharp tools and to use them properly. Otherwise, you could easily injure yourself.
Always use a cutting board so that you don't ruin any kitchen surfaces and cut away from yourself in case the knife slips. Make sure the knives you use are clean and dry, so you have a good grip on the utensil. Keep blades sharp as well, because it will ensure a clean cut. Dull blades can make it tough to cut things, which can cause you to struggle and lead to an accident.
What to Do If There's a Cooking Fire
By following the aforementioned cooking safety tips, the potential for kitchen accidents and cooking fires is limited. But accidents do happen. In the event that there is a fire, immediate action is important. With the proper fire extinguisher, you can stop small fires from spreading and becoming a major concern. Keep an up-to-date fire extinguisher in your kitchen. If you don't have a fire extinguisher, baking soda and/or salt can be used to tame the flames.
If the fire is too much for you to handle, evacuate your property and call your local fire department to have the fire put out. Once the fire is extinguished, call a fire damage restoration professional for help right away. These services feature emergency pre-cleaning to prevent permanent damage, content and property cleaning, restoration and repairs, and deodorization.
With help from professional fire damage restoration, your property will be restored to a clean and safe environment.