4 Different Types of Warehouse Roofing
A solid warehouse roof is an invaluable investment. A quality roof protects the building from adverse weather conditions, including snow, ice and water infiltration. Various roofing choices are available, from widely-used to costly, but the right one can add to the building's value and appearance.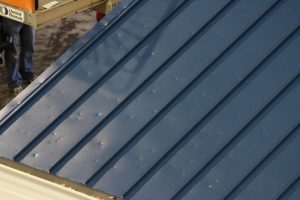 When choosing warehouse roofing, look for materials with a track record of longevity. Certain roofing materials endure, even under hostile conditions, resulting in a lengthy lifespan. Other roofs have the potential to decrease operating costs. A top-notch roof protects the business' inventory inside.
Since miniscule roof leaks lead to major interior water damage and potentially thousands of dollars in lost capital, the initial investment in a watertight warehouse roof is worth the cost. Plus, proven roofing materials last decades, reducing the likelihood of the hefty expense of a roof replacement.
1. Liquid-Applied Roofing
Liquid-applied roofing is custom-fitted and can be painted on numerous types of existing roofing structures. The liquid used to cover the roof includes hot and cold polymer-modified asphalt and single-component asphalt. Coal tar-extended urethane and two-component urethane elastomer are also used.
Prior to the application of the liquid membrane system, the roof's substrate must be rigorously prepared. The substrate must be thoroughly dry before the liquid-applied membrane is applied. All dust particles should be eliminated from the substrate. Any cracks must be patched up.
The proper preparation of the substrate follows with the seamless and uniform application of liquid materials. The liquid applied coating efficiently fills in cracks, gaps and other flaws, immediately promoting the roof's water-resistant properties and preventing the possibility of water damage.
A benefit of liquid-applied roofing is that it may be applied to existing roofing structures. Additional features include coatings being highly elastic, which allows them to be applied to contoured surfaces. The roofing also has disadvantages, like low permeability and requiring uniform thickness.
Highly sensitive coatings, like acrylic and silicone, may be used. However, these coatings can be problematic for roofing installers in terms of labor and installation, since they may only be applied under certain weather conditions. Plus, installation comes with a premium price.
Acrylic coatings do, however, present benefits, like being ideal for low-slope roofs with positive flow and minor pooling. Additionally, acrylic coatings withstand the impacts of foot traffic, dust erosion and impacts. Similar to paint, acrylic coatings may be rolled on, sprayed or brushed on.
2. Metal Roofing
Metal roofs equate to longevity, enduring for 100 years or more. Despite its reputation for protecting inventory for far longer than the life of the inventory itself, metal roofs are the most expensive option. Plus, the building must have a slope in order for the metal roof to last.
Three types of metal roofing materials are available: steel, aluminum and zinc. These long-lasting roofs are also available in three forms: look-alikes, tiles and sheets. Heat resistance, impact resistance and the ability to withstand high winds make metal roofs an attractive option in some geographic areas.
3. Asphalt Shingles
As the most commonly used roofing system in the US, asphalt shingles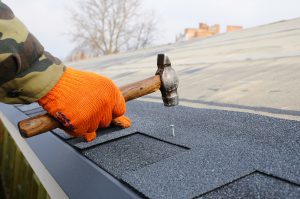 offer several benefits. Given its widespread use, most roofing contractors are experienced in installing asphalt shingles. Besides being highly affordable, asphalt shingles can be readily customized to fit any roof.
Despite being extremely popular, asphalt shingles are ridden with unique disadvantages. The typical lifespan of asphalt shingles is a mere 20 years. Durability is worsened under stress. In adverse weather, for instance, asphalt shingles are notorious for blowing off or becoming otherwise compromised.
4. Single Ply Membrane Systems
Offering a reputation of reliability, low maintenance and an extended lifespan, single ply membrane roofing systems are increasingly gaining in popularity. Single ply roofing membranes are constructed using flexible sheets of compounded synthetic materials. Strength and flexibility are added benefits.
The pre-fabricated sheets of singly ply roofing membrane systems are manufactured with consistent quality. The sheets also offer versatility in methods of attachment and possess a broad applicability. Single ply membranes are available in two primary categories: thermosets and thermoplastics.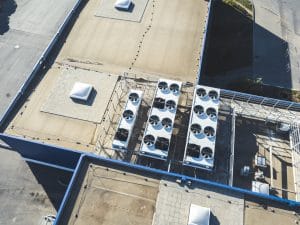 Polymers are used in thermoset membranes. Ethylene Propylene Diene Monomer (EPDM) is the most commonly used polymer. Thermoset membranes are exceptional in withstanding the harmful effects of sunlight and the various chemicals often found along the surfaces of commercial rooftops.
Thermoplastic membranes are also manufactured with polymers. These polymers have properties that give them the ability to soften when heated and toughen when cooled. Polyvinyl chloride (PVC) and thermoplastic polyolefins (TPO) are the most sought-after thermoplastic roofing membranes on the market.
While cost is an important factor when considering singly ply membranes, other elements play a significant role. The building's height, exposure to wind, typical roof traffic and overall appearance should be given equal weight. A roofing contractor's reputation also influences the success of the system.
When evaluating the costs and reputed lifespan of warehouse roofing materials, also consider the manufacturer's past performance. Once the search is narrowed down to the most practical options, the next step is to consult a roofing contractor with a reputation for excellence.
Work with a Reliable Roofing Contractor
Reliable Roofing is known for quality workmanship, from roof repairs to roof replacement and roof construction. A commercial roof that is damaged by Illinois' severe weather, for instance, will benefit from our repair services. Their roofing contractors will promptly seal leaks and repair minor damages.
Worn roofing systems will eventually need roof replacement. Reliable Roofing is prepared with the skilled labor and quality roofing materials to fully replace the commercial roof quickly and efficiently. Their experienced roofers will also rebuild roofs with major damage.
Their experience spans multiple industries, including warehouses, hospitals, schools, offices and restaurants. Reliable Roofing is licensed, bonded and insured. As a longstanding member of the National Roofing Contractors Association, they are committed to using best practices.
Investing in the services of a reputable commercial roofing contractor goes a long way toward extending the lifespan of a commercial roof. That's why businesses in Lake Zurich, Illinois, turn only to Reliable Roofing for all their roof replacement, maintenance and installation needs.