Whether they are left from a natural disaster or mold growth, unpleasant odors in your home or business can be tough to live with. It takes professional equipment, methods, and expertise to effectively remove lingering, foul odors. RestorationMaster provides smoke and odor mitigation services in Morrison, CO. We help homes and business to get rid of bad odors from smoke and other substances using the proper equipment and deodorization methods. We will remove the odor at the source and ensure that your property is odor free.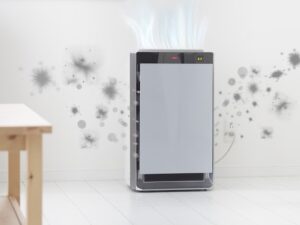 Bad odors linger because they can get absorbed into various building materials and the air of the space. This makes them very tough to eliminate as the odor particles need to be extracted to remove the odor. It takes professional deodorization methods to do this effectively.
Our smoke and mitigation services ensure that we can eliminate any odors from the air, furnishings, and porous building materials. We use hydroxyl technology, Nano carbon technology, ozone technology, thermal fogging, and other deodorization methods to extract the odor particles.
These are the types of odors we can remove:
Dead animal odor
Mold odor
Pet odor
Smoke and fire odor
Undetected death scene odor
Our deodorization process includes the following:
Locating the source of the odor
Removing the odor source
Treatment of structural elements
Treatment of furnishings
Affected air space treatment
Air washing
Sealing of porous surfaces
Documenting the deodorization process
Our Smoke and Odor Mitigation Services can remove the following odors:
Fire and Smoke: We can remove odors left by smoke and fire.
Water Damage Odors: Water damage can cause musty odors and allow for mold growth which can make these odors worse. We can remove musty odors from water and mold.
Biological-Based Odors: Odors caused by bodily fluids, dead animals, and other biohazard materials will be eliminated.
You shouldn't have to suffer in a space that has a bad odor. Contact RestorationMaster for our smoke and odor mitigation services in the Morrison, CO area. Our technicians use the best odor removal equipment and methods to get rid of bad odors in your space.
Call us 24/7 at (303) 800-3404 for complete odor removal.