When a fire occurs at a home or property, it can be devastating and very costly to repair. Even after the fire has been put out, soot and smoke can cause further damage including etching and tarnishing of materials. You should call a professional right away after the fire is out to stop the damage from spreading further.
RestorationMaster provides fire damage restoration services to help homes and businesses in Morrison, CO that have experienced a fire. We will respond right away to your call to clean up and restore your property using the best equipment and cleaning products.
Damage Caused by Fire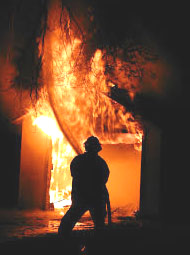 The flames of a fire cause significant damage as they burn through a home or building. However, the smoke, soot, and other corrosive byproducts that are created as materials are burned often cause even more damage than the flames. These corrosive byproducts will continue to spread after the fire is out and cause tarnishing and etching to the affected materials. If the restoration is not done quickly the damage will become permanent.
RestorationMaster can help restore surfaces and objects damaged by smoke and soot and repair structural damage caused by the fire.
The following are the five steps of our fire damage restoration services:
Emergency pre-cleaning
Cleaning contents
Content pack-out
Cleaning of ceilings and walls
Deodorization
What to Do After a Fire
Call RestorationMaster once the fire has been put out so we can assess the property and begin the restoration.
Open doors and windows if temperature outside is at least 60 degrees Fahrenheit.
Clean aluminum chrome, Formica, and porcelain surfaces to so that tarnishing does not become permanent.
If you have a hot air furnace, replace the air filter.
Tape damp cheesecloths on every return and supply vent to filter loose soot from the air.
Throw away any open food containers.
If you experienced a power outage, leave the refrigerator door open and clean it out.
Bring smoke-damaged clothing to the cleaners
What NOT to Do After a Fire
Do not touch drywall, upholstery, or wood as oil from your hands can make the damage worse.
Do not wash soot-damaged walls, carpeting, or upholstery.
Make sure to have electrical appliances checked before use.
Do not use ceiling fixtures if the ceiling is wet.
Call RestorationMaster at (303) 800-3404 if your home or business in Morrison, CO, has been damaged by a fire. We use top notch equipment and methods to clean up, disinfect, and properly restore your property.