Encountering mold in your home or building can be devastating and costly. Mold growth latches onto building materials that contain organic substances it uses as food, and it spreads quickly which can cause major property damage. The presence of mold can also put your health at risk as exposure can cause allergic reactions. Therefore, it is important to react right away and call the professionals to eliminate the mold.
RestorationMaster offers mold remediation for homes and businesses located in the Morrison, CO, area. Our technicians will find and remove all mold growth and restore the areas and materials damaged by the mold.
Problems Caused by Mold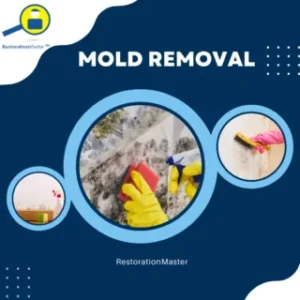 Mold is a major problem when it appears indoors because it can cause serious property damage and put your health at risk. Mold colonies feed on organic substances like cellulose that is found within common building materials like wood and drywall. As mold eats away at the affected materials, the damage to these materials will get worse and can even lead to structural damage within the building.
The other reason mold is dangerous is because of the effect it can have on your health. Those who are exposed may experience reactions such as headaches, skin irritation, coughing, nasal congestion, and itchy eyes and throat. More serious conditions like respiratory infections may develop with prolonged exposure.
Mold Removal Process
RestorationMaster technicians are highly trained and use the proper equipment to remove the mold. We use advanced testing equipment to test for mold and find any hidden mold spots. We also use state-of-the-art equipment and cleaning products to remove mold from your property and we work with your insurance to get the claim processed.
Our mold remediation services include the following:
Evaluation of mold growth and damage
Creation of report of evaluation results and providing it to the insurance company
Isolating and containing the mold contamination
Mold remediation plan based on the type of mold
Full removal of mold and restoring the damaged surfaces
If you encounter mold growth in your home or business, act right away and call RestorationMaster at (303) 800-3404 for mold remediation services in the Morrison, CO area.