Hoarding affects many people in the US. It is technically a mental disorder in which an individual is unable to get rid of any items in their home due to anxiety and depression. As a result, clutter builds up in their home and eventually reaches unsafe and unsanitary levels. Homes affected by hoarding have a higher risk of fire and they can be a breeding ground for bacteria and viruses which can cause health issues. Before cleaning the home of a hoarder, it is important to talk to them about their situation and help them understand that they need to clean their home for their safety.  Once they agree to proceed, you can call a professional to help clean up.
RestorationMaster helps hoarders located in Morrison, CO with our hoarding cleaning services. Our technicians can help remove unwanted items as well as clean and restore the home to safe living conditions. We always work with the affected individual and their families to ensure that they are in approval of everything we do at their home.
Dangers of Hoarding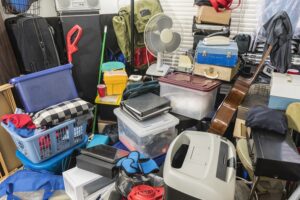 The amount of clutter that builds up in the home of a hoarder can reach dangerous levels. The hoarded items can block pathways and exits which is hazardous in case of an emergency and there is a risk of injuries from falling objects. Fires are also more likely to occur as the hoarded items can catch fire easily and fuel the flames.
The conditions within a home affected by hoarding become unsanitary when mold, bacteria, and other dangerous substances form within the clutter. This can put the health of those within the home at risk.
Trusted Hoarding Cleaning Services
It is crucially important that the affected individual trusts the company that will be doing the clean-up. This also requires our employees to be sensitive to the individual and their needs and treat them with compassion. They always have a final say in what happens to each item in their home. Our technicians will only get rid of those specific items. We then clean the home, disinfect it, and restore it to safe living conditions with the proper equipment and methods. Any biohazard materials are removed and disposed of safely.
We abide by all regulations and rules set by the EPA, OSHA, and the Department of Transportation. Our hoarding cleaning services include:
Decontamination: Removal of any biohazard materials and decontamination of the living area.
Deodorization: Removal of strong odors with special deodorization methods.
Proper Disposal: All biohazard materials will be disposed of properly and we will help throw away, recycle, or donate unwanted items.
If hoarding is a struggle for you or a family member, make sure to get them some help. The buildup of clutter is dangerous, and it affects the well-being of everyone within the home. Reach out to RestorationMaster at (303) 800-3404 to learn more about the hoarding cleaning services that we provide in Morrison, CO.