Have you faced the devastating impact of a disaster like fire or flood, resulting in damage to both your property and cherished belongings? Fast Track Restoration is here to provide essential assistance with our dedicated content cleaning, content restoration and pack-out services. Whether it's on-site restoration or meticulous care at our climate-controlled facility in Chandler, AZ, we are committed to restoring your personal items. Our team of highly trained technicians, certified by IICRC and WRT, possesses the expertise needed to handle a diverse range of personal content. Rely on us to bring your belongings back to life, offering a sense of relief during these challenging times.
Common Types of Damage
Damage to your personal property can be caused by smoke, water, mold, and even biohazard materials. It is crucial to get a quick response so your property and your personal belongings can be remediated. If you leave your damaged property and belongings untreated, you are risking permanent damage to these materials.
These are the scenarios that usually require content cleaning:
List of Items for Content Restoration
Fast Track Restoration uses the proper equipment and methods to fully restore your belongings. These are the types of items we can restore:
Antiques
Various types of artworks
Documents and books
Electronics
Photographs
Business equipment
Jewelry
Kitchenware
Other household items
We utilize state-of-the-art restoration techniques and sanitization solutions to restore your belongings as completely as possible. In many cases, we can restore them back to their original condition.
Content Restoration and Pack-Out Services in Chandler, AZ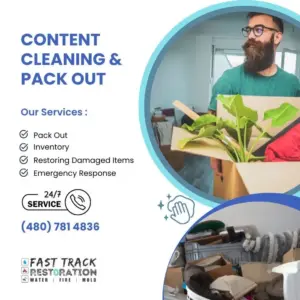 If your home or building remains structurally sound after a disaster, we conduct the restoration process on-site. This approach is highly advantageous as it eliminates the risk of item damage during transportation and expedites the cleaning process, minimizing further deterioration.
In cases where the structural integrity of your building is compromised, we offer our pack-out services. This involves carefully packing and transporting your items to our climate-controlled facility. Here, we meticulously clean, repair, and securely store your belongings. Rest assured, your items are handled with utmost care and returned to your home fully restored once the restoration is completed.
To ensure a comprehensive record, we conduct a thorough inventory of all items being shipped, minimizing the risk of misplacement. You will receive a detailed inventory list for your reference. Your restored items will be stored until your building is secure, at which point we will arrange for their safe delivery back to you. Your peace of mind and the restoration of your valued belongings are our top priorities.
Content Cleaning Do's and Dont's:
Here are some important do's and don'ts to keep in mind:
Do's:
Prioritize Safety: Ensure the safety of yourself and others by staying away from heavily damaged or hazardous areas until professionals arrive.
Document the Damage: Take photos or videos of the damaged items and affected areas. This documentation will be useful for insurance claims and restoration purposes.
Move Undamaged Items to a Safe Location: If it's safe to do so, relocate undamaged items to a secure area to prevent further damage during the restoration process.
Clear Pathways: Make sure pathways to affected areas are clear and accessible for restoration professionals to efficiently assess and begin the restoration process.
Dont's:
Attempt Cleaning Yourself: Refrain from attempting to clean or restore items unless you are trained to do so. Improper cleaning attempts can worsen the damage.
Touch Electrical Appliances: Do not touch or attempt to operate electrical appliances or devices that have been affected by water or fire. Leave this to professionals to handle.
Use Home Remedies: Avoid using household remedies or cleaning agents on damaged items, as they may cause more harm. Let the experts use appropriate, safe cleaning methods.
Disrupt Restoration Process: Once the restoration professionals arrive and begin their work, try to minimize disruptions and provide necessary information or assistance as requested.
Contact Us for Content Cleaning Services in Chandler, AZ
It is very frustrating to have your personal property damaged. We do everything we can to make the content cleaning and pack-out process easy for you. Fast Track Restoration professionals can be reached at (480) 781 4836 for content cleaning and pack-out services in Chandler, AZ.
---
Related Services:
Fire Damaged Content Cleaning in Mesa, AZ
Water Damaged Content Cleaning in Phoenix, AZ
Content Restoration Team in Scottsdale, AZ