If a death, suicide, violent crime, major accident, or a similar trauma has occurred on your property, you may be faced with an overwhelming and dangerous scene. When such a situation occurs, you need to stay clear of the scene to avoid dangers from possible biohazard contaminants and immediately call the proper authorities to respond to the scene. You also need to call our professionals to handle cleaning up the scene.
Fast Track Restoration is ready to help with our trauma and crime scene cleaning services in Chandler, AZ. Our highly trained restoration specialists know how to handle these difficult situations and they will restore your space back to its original state.
Our professionals work with law enforcement during the process so we don't contaminate the crime scene. While you must call emergency responders first in these scenarios, these professionals are not trained to clean up dangerous biohazard materials like our professionals. Fast Track Restoration can be reached at (480) 781-4836 for biohazard cleanup in Chandler, AZ.
What is Biohazard Waste?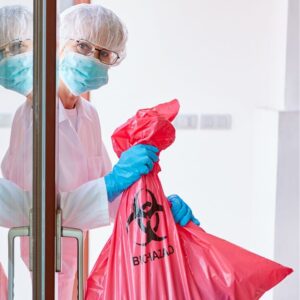 Biohazard refers to waste or material that is a threat to others. This includes chemicals, bodily fluids and tissues, etc. Fast Track Restoration specializes in the cleanup of:
Crime scenes
Trauma scenes
Floods and sewage waste
 Medical waste
Industrial accidents
Hoarding situations
How Biohazard Cleaning Professionals Help
Biohazard materials such as blood, bodily fluids, and tissues can usually be found at trauma scenes, and they may contain deadly pathogens, bacteria, and viruses. This is why our biohazard and trauma cleaning professionals will respond quickly and clean up the scene dressed in the proper personal protective equipment (PPE) such as suits, gloves, and respiratory masks so that they or others do not become exposed to these pathogens. We can also manage the proper cleanup and disposal of biohazard materials to avoid spreading infection and diseases.
Our Process of Crime Scene Cleaning in Chandler, AZ: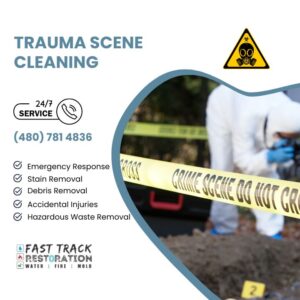 We clean, decontaminate, and sanitize any leftover biohazard materials at the scene. These are the steps we follow when we clean up crime scenes:
We properly remove and dispose of biohazard materials.
We decontaminate and sanitize the area.
We remove any odors.
We monitor while the restoration process is going on to ensure a quality result.
We help you in working with your insurance so your claim can be processed.
We restore the area if needed.
You can expect our technicians to be professional and respectful.
Trauma Scene Cleaning: Do's and Don'ts:
Do not go into the area that's been affected.
Do not try to clean anything.
Do explain everything that happened to our experts.
Do make sure to document everything.
Do make sure to wear a mask when entering the area that has the hazardous materials.
Do wear masks when near to the affected area.
Contact us for Crime Scene Cleanup in Chandler, AZ
For biohazard and crime scene to be handled professionally, you need to call Fast Track Restoration so our professionals can clean, sanitize, and restore your property. You can rest assured that we will arrive quickly, and you will be pleased with the outcome. Our technicians are professionals and will handle any situation with care and respect. Call Fast Track Restoration right away at (480) 781-4836 for biohazard, trauma and crime scene cleaning in Chandler, AZ.
---
Related Services:
Crime Scene Cleanup Experts in Mesa, AZ
Trauma Scene Cleaning Services in Phoenix, AZ
Biohazard Removal in Scottsdale, AZ
Biohazard Cleaning Services in Tempe, AZ
---
More Info:
What are the examples of biohazard waste?
Unattended Death Counter, what's next?
Why Crime Scene Cleaning is Important?
Common myths associated with crime and trauma scene cleaning.