Did you just experience fire within your property? Dealing with the aftermath is not only financially burdensome but can also result in severe damage. Even after the flames are extinguished, the remnants of smoke and soot can cause further harm. Once the emergency services have completed their work, smoke and soot settle on surfaces, leaving damaging residues and persistent odors that affect your belongings. Fast Track Restoration is your solution for restoring your property to its pre-fire condition, offering specialized smoke damage restoration, cleanup and soot removal services. If you're seeking assistance with smoke damage cleanup in Chandler, AZ, reach out to us promptly at (480) 781 4836. Our team is available 24/7 to assist you in this challenging time.
Top Causes of Smoke Damage:
Fire can be caused by various things. Here are a few types of fires and causes of smoke damage:
Dry Smoke: Dry smoke is caused by burning wood, paper, or furniture. It leaves behind debris and soot which can cause further damage.
Protein Smoke:This type of smoke is caused by kitchen fires. There is not much soot left after the fire is put out, however, there are leftover gases and bad odors instead.
Wet Smoke:This smoke is due to burning of plastic and rubber products and it is extremely tough to clean this smoke residue.
Fuel Smoke: This smoke is caused by wildfires or brush fires. It causes your home to feel like it is full of smoke.
Why We Need Smoke Damage Cleanup?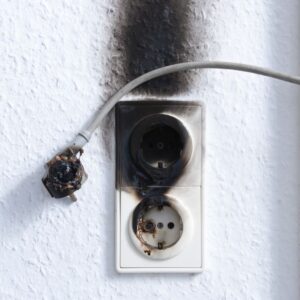 Smoke and soot damage are extremely difficult to clean up and if these materials are not cleaned up properly, they can cause major damage to your belongings. Smoke odors and soot particles can seep into porous materials such as furniture, appliances and even personal items and permanently damage them. Materials such as tiles, countertops, and carpets can even get discolored permanently due to smoke and soot. The presence of soot can also affect your lungs, respiratory track, and cause skin irritation. If you are exposed to gas created from smoke for long periods of time, you can experience additional issues such as dizziness, headaches, and even asthma.
If there is smoke damage to your home, you should call our restoration professionals to clean your property right away at (480) 781 4836.
Smoke Damage Restoration in Chandler, AZ:
Our team is dedicated to providing swift, efficient, and thorough smoke damage restoration to bring your property back to its pre-damaged condition. The tasks included in our smoke damage restoration, cleaning and remediation include:
Rapid Response– We offer 24/7 emergency services because we understand that smoke damage can happen at any time. Our rapid response team will be on-site quickly to assess the situation and begin the restoration process.
Comprehensive Assessment: Our experienced technicians will conduct a detailed assessment of the smoke damage, evaluating its extent and identifying all affected areas. This thorough evaluation allows us to create a customized restoration plan tailored to your specific needs.
Soot and Smoke Removal: We employ advanced techniques to improve smoke residue and soot from surfaces, including walls, ceilings, floors, and personal belongings. Our goal is to eliminate all traces of smoke damage, ensuring a clean and safe environment.
Cleaning and Restoration: Our skilled smoke damage restoration professional will clean and restore all damaged areas, from structural components to furnishings and personal possessions. We take great care to salvage and restore items whenever possible.
Air Quality Improvement: We prioritize your health and safety by improving indoor air quality air filtration systems and ventilation to ensure that your property is free from any harmful airborne contaminants.
Soot Removal – Do's and Don'ts Before We Arrive
Do make sure that all furniture that is not damaged is covered
Do make sure to keep yourself away from all smoke and soot residue
Do make sure you are ventilating the affected space
Don't clean soot by yourself
Don't scrub particles leftover from soot
Don't blow soot off surfaces
Contact us for Smoke Damage Cleanup Services in Chandler, AZ
If your property has been affected by smoke and soot, call Fast Track Restoration today. We will arrive quickly and begin the soot removal and smoke damage cleanup process. Our highly trained experts have been WRT and IICRC certified and will clean, remediate, and restore your property after being affected by smoke and soot. Reach out to us today at (480) 781 4836 for a free estimate.
---
Related Services:
Smoke Removal Company in Mesa, AZ
Smoke Damage Cleaning in Tempe, AZ
Fire Soot Removal in Scottsdale, AZ
Smoke Restoration Company in Phoenix, AZ
---
More Info:
Fire and Smoke Damage Restoration FAQ's
Fire Safety Tips for Apartment Building
How to Clean Smoke Damaged Wood