ServiceMaster Restoration by Complete
Upholstery fabrics are durable and resilient. However, they do require regular cleaning because they tend to attract dust and debris with repeated use. Your furniture may also experience stains and spots from spills because people often drink or eat when they sit on the couch. At ServiceMaster Restoration by Complete, we use tried and tested methods to remove all kinds of stains and dust from your furniture upholstery with our professional upholstery cleaning services in Warren and Bridgewater Township, NJ.
Residential Upholstery Cleaning Services
It's easy to neglect home furniture and not clean it as often as we should. Unfortunately, the dust and debris can build up over time and damage the upholstery fabric permanently. If you allow the debris buildup to linger, you'll eventually have to replace the upholstery or even the furniture and that can be expensive.
We can help keep fabric deterioration at bay with our excellent residential upholstery cleaning services. Our experts will use the hot water extraction technique to remove all the dust and stains embedded deep in the fabric and ensure that your furniture looks as good as new.
Most people don't realize that the dust and stains can become abrasive over time. This can damage the threads and weaken the fabric. That's one of the reasons why old, unwashed fabrics come apart easily. Our deep, hot water extraction cleaning method will remove all build-up so you won't have to worry about your upholstery falling apart.
Steps included in Our Complete Residential Upholstery Cleaning Services
Vacuuming the upholstery to remove all the loose dirt from the surface.
Applying pre-treatment to stubborn stains to loosen them. This will help with the extraction later.
Hot water extraction with a mild detergent and hot water. This will remove most of the stains and dirt.
Post-treatment for any remaining stains.
Frame washing and extensive polishing to restore the appearance of the furniture piece.
Commercial Upholstery Cleaning
Commercial upholstery has to endure more wear and tear than residential upholstery, especially in high-traffic areas like visitor lounges and waiting areas. Employees, visitors, and business associates use the office furniture regularly, and that can transfer and embed dust into the fabric. If you don't clean this dust and debris regularly, it will build up and stain your upholstery. Your furniture will start looking dull, worn, and dirty, which can compromise the aesthetic of your office and impact your reputation.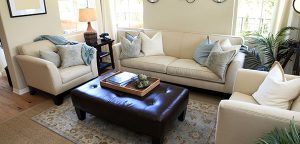 We will use the hot water extraction method to remove even the most stubborn stains and dust to clean, deodorize, and sanitize your furniture. The furniture will look inviting and attractive to improve the appearance of your office. You can also hire us to clean your upholstery regularly to help extend its lifespan and improve its looks so your property will always be presentable.
You don't need to look beyond ServiceMaster Restoration by Complete to find great upholstery cleaning services in Warren and Bridgewater Township, NJ. Our well trained experts will restore your furniture's appearance and make sure it's absolutely clean. Just give us a call at (732) 751-4004 today!
---
Recent Reviews
Review by

Shayon M.
for
Disaster Restoration
Rating

"The project manager and his team were very efficient and knowledgeable. Quick turnaround on all the issues we had at home."
---
Review by

Daniel C.
for
Disaster Restoration
Rating

"Work was excellent. Your people are very hardworking and conscience. I am very satisfied and would certainly recommend service master to friend and neighbors"
---
Review by

Valarie B.
for
Disaster Restoration
Rating

"All who worked did a great job, but there was a lack of communication between the various parties (insurance companies, condo association) about what work needed to be done to address the situation. The carpet was never removed. I'm not sure why."
---
ServiceMaster Restoration by Complete Reviews
Review us on Google