ServiceMaster Restoration by Complete
Most people are aware of what hoarding looks like but few know what hoarding actually is.  Hoarding is considered a mental disorder because those who are affected by hoarding experience extreme anxiety that causes them to keep everything that ends up in their home.  This is why approaching a hoarder about the issue is a sensitive situation.  A trusted friend or family member must help the hoarder realize that their behaviors have created dangerous conditions in the home that must be addressed.  ServiceMaster Restoration by Complete provides hoarding cleaning services to clean and restore the homes of hoarders in Warren and Bridgewater Township, NJ.  Our technicians work to earn the trust and respect of the affected individual before starting the cleaning and we have advanced equipment and cleaning products to restore the home to safe living conditions.
Dangerous Living Conditions and Hoarding
The living conditions created by hoarding behaviors can result in a very dangerous situation that must be addressed as soon as possible for the health and safety of those in the home.  Those who hoard collect all types of objects in their home: from small items, such as newspapers and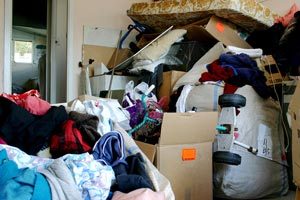 various knickknacks to larger items including furniture and appliances.  Eventually, the hoarded items will be piled on top of each other, which makes moving around the home difficult and dangerous as falling objects can cause injuries.  Homes affected by hoarding are also likely to experience mold or bacteria growth in the clutter that can cause serious health effects.  The problem is that many hoarders do not get help themselves because they are either embarrassed by their situation or do not think they need help; therefore, it takes intervention from a trusted friend or family member to help a hoarder start the cleaning and recovery process.
At ServiceMaster Restoration by Complete, our technicians have the training and experience to clean and restore the homes of hoarders.  We have the capacity to clear out a large amount of hoarded objects while our advanced cleaning products and disinfectants will ensure that safer living conditions are restored.
We complete the following steps with our hoarding cleaning services:
We save important personal documents and valuables like money and jewelry
Complete removal of unwanted hoarded items
We will throw away, recycle, or donate items the affected individual no longer wants
We will bring some kept items to friends or family members
Help completing paperwork from government agencies, trusts, and attorneys
3-Phase Hoarding Cleaning
Cleaning the home of a hoarder cannot be taken lightly because those affected may have a difficult time parting with objects in their home.  You must approach a hoarder with respect and compassion to let them know that you are generally concerned about their well-being.  Our technicians make it a priority to earn the trust and respect of the individual before beginning the cleaning. ServiceMaster Restoration by Complete also puts the individual in charge of all decisions regarding what to do with the hoarded objects.  Our hoarding cleaning approach is divided into these three phases:
Phase 1: Building a Personal Connection
Our technicians get the best possible assessment of the situation before entering the home.
We work on building a personal connection with the affected individual based on trust and respect and discuss the condition of the home with them and their family. We may also involve a counseling professional if necessary.
If the affected individual is willing, we will move on in the process.
Phase 2: Creating a Cleaning Plan
We work with the individual and their family to come up with a cleaning plan that will improve the living conditions.
Our technicians will clear the unwanted hoarded items as well as clean and rearrange kept items.
The affected individual has the final say on what happens to each object.
Phase 3: Follow Up
We create a cleaning plan that will help the individual maintain safe living conditions in their home.
A follow up phone call is made to see if the individual is following the maintenance plan. We will send our technicians back if further cleaning services are needed.
The consequences of hoarding threaten the health and safety of the hoarder and their families which makes it important to intervene before the conditions become too dangerous.  Our technicians at ServiceMaster Restoration by Complete can help earn the trust of the affected individual and involve them in the cleaning process to restore safe conditions to the home.  You can reach us at (732)751-4004 for more about our hoarding cleaning services in Warren and Bridgewater Township, NJ. 
---
Recent Reviews
Review by

Shayon M.
for
Disaster Restoration
Rating

"The project manager and his team were very efficient and knowledgeable. Quick turnaround on all the issues we had at home."
---
Review by

Daniel C.
for
Disaster Restoration
Rating

"Work was excellent. Your people are very hardworking and conscience. I am very satisfied and would certainly recommend service master to friend and neighbors"
---
Review by

Valarie B.
for
Disaster Restoration
Rating

"All who worked did a great job, but there was a lack of communication between the various parties (insurance companies, condo association) about what work needed to be done to address the situation. The carpet was never removed. I'm not sure why."
---
ServiceMaster Restoration by Complete Reviews
Review us on Google