Living through a cold winter is already difficult enough but below freezing temperatures can cause several problems that lead to property damage in your home. One of the most common issues caused by cold weather is frozen pipes or sprinkler heads. Frigid temperatures cause the water in the pipes and plumbing fixtures to freeze which can lead to a burst that spills a significant amount of water in your home. ServiceMaster Restoration by Complete is ready to remove water from a busted pipe or sprinkler head and restore the resulting damage to homes and businesses in Warren and Bridgewater Township, NJ. Our technicians provide expert water damage restoration that includes water removal and drying of the affected areas and we will also put you in touch with a professional that can fix your damaged pipe.
Frozen Pipes and Sprinkler Heads
Uninsulated areas of a home or building such as attics, crawlspaces, basements, and outside walls generally contain many of the pipes of the plumbing system. Because these areas are poorly heated, the pipes are at much higher risk of freezing during cold temperatures. Frozen pipes have much lower water pressure because the ice causes a blockage and it will continue to expand until the pipe bursts from the pressure. The leak from a burst pipe can spill water at a rate of hundreds of gallons per hour which can cause serious flooding and structural damage in your home or building.
As soon as a pipe or sprinkler head bursts, shut off the water supply at the emergency valve and call ServiceMaster Restoration by Complete to remove the water. We are a trusted provider of water damage restoration and we are trained and equipped to effectively remove large amounts of water and dry the affected areas. Our technicians will dry all damaged materials with our dehumidification equipment and we can also repair the structural damage caused by the water.
How to Prevent Frozen Pipes
Busted pipes and sprinkler heads create a huge mess that can lead to extensive water damage. The key to preventing pipe bursts is to prevent your pipes from freezing with these tips:
Turn the water on in your sinks just a little bit to keep a constant trickle because the water will not freeze if it keeps moving. Make sure to turn on the hot and cold water.
Open the cabinets that contain the pipes under the kitchen and bathroom sink so the heat can reach them. You can also keep these pipes warm with a space heater.
Protect pipes in uninsulated areas with pipe insulation or electrical heat tape.
Use a space heater in uninsulated areas that contain pipes such as the attic, basement, or crawlspace.
Bring your outside houses indoors for the winter and keep the water supply line to the outside off.
Locating Frozen Pipes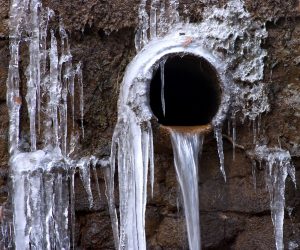 A frozen pipe requires immediate attention to thaw it out and prevent a pipe burst. Low water pressure is often a telltale sign of a frozen pipe somewhere in the supply line. These steps will help you find a frozen pipe:
Check your faucets for low water pressure to identify the supply line with the frozen pipe.
Keep one of the faucets in the supply line on and running.
Start at the faucet and follow the pipe line to find the frozen pipe. Make sure to check the uninsulated areas that the supply line passes through.
Check the pipes for frost, ice, fissures, or bulges.
Thawing Frozen Pipes
Once you locate a frozen pipe, the next step is to thaw it before it bursts. Exposed pipes are the easiest to thaw out which can be done with a heat lamp or hair dryer. You must turn on one of the faucets in the supply line so the melted ice has somewhere to go and start using the hair dryer at the blockage and work towards the faucet. Do not use a flame torch because it is a fire risk. If you believe the frozen pipe is behind a wall, these options are helpful:
Turn up the heat in your home to warm up the pipe.
Use and infrared lamp to apply heat directly to the wall near the pipe. The heat from these lamps does not get absorbed into the air and will pass directly to the wall and pipe.
Remove the drywall or ceiling to get directly to the pipe and treat it like an exposed pipe.
If the temperature drops below freezing, take the preventative actions mentioned above to avoid frozen pipes and be on the lookout for signs that you may have a frozen pipe or sprinkler head. Burst pipes and frozen sprinkler heads can spill an excessive amount of water in your home or building so make sure you shut off the water and call ServiceMaster Restoration by Complete if a burst pipe occurs in your home. We are standing by 24 hours a day at (732) 751-4004 to respond to pipe bursts in Warren and Bridgewater Township, NJ.
---
Recent Reviews
Review by

Shayon M.
for
Disaster Restoration
Rating

"The project manager and his team were very efficient and knowledgeable. Quick turnaround on all the issues we had at home."
---
Review by

Daniel C.
for
Disaster Restoration
Rating

"Work was excellent. Your people are very hardworking and conscience. I am very satisfied and would certainly recommend service master to friend and neighbors"
---
Review by

Valarie B.
for
Disaster Restoration
Rating

"All who worked did a great job, but there was a lack of communication between the various parties (insurance companies, condo association) about what work needed to be done to address the situation. The carpet was never removed. I'm not sure why."
---
ServiceMaster Restoration by Complete Reviews
Review us on Google