ServiceMaster Restoration by Complete
Carpets are a very attractive flooring option, especially in colder climates where hardwood, concrete, or stone can be very uncomfortable. However, this material requires regular maintenance and care in order to be clean, attractive, and durable. At ServiceMaster Restoration by Complete, we provide great carpet cleaning services for homes in Warren and Bridgewater Township, NJ and we will make sure your flooring looks great and stays clean.
Residential Carpet Cleaning Services
Residential carpets have to endure a considerable amount of wear and tear, especially in high-traffic areas like entrances, hallways, stairs, kitchens, etc. This foot-traffic doesn't just transfer dirt and debris onto the surface, but also presses them into the fibers of the carpet. This can cause deep stains and discoloration that require specialized cleaning methods. If you clean your carpet at least once a year, it will last longer and the stains will be easier to remove.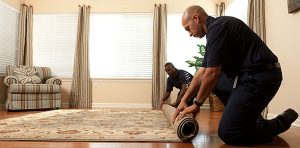 We use the hot water extraction process to remove all dust and debris from the carpet. This is a quick and highly effective way to remove all accumulated debris and restore the appearance of any carpet. We use a mixture of mild detergent and steaming hot water to soak the carpet and loosen the stains. After the solution has done its work, we extract the dirty water and detergent mixture and direct it to a separate holding tank. The process will remove most of the stains and your carpets will dry within 24 hours without any residue.
Our Carpet Cleaning Process
We inspect the carpet thoroughly.
Apply pre-treatment solution to difficult spots and stains.
Pre-clean areas that have had high traffic.
Use the hot extraction method described above to clean the entire carpeted area.
Use post-treatment solutions on particularly stubborn stains.
Groom the fibers to remove any lingering dirt, improve the carpet's appearance, and dry it faster.
Place pads under all furniture to protect the carpets.
Perform a final inspection to ensure everything is to your satisfaction.
Commercial Carpet Cleaning Solutions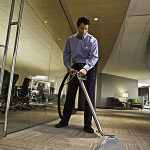 We have the equipment and skills to clean carpets of all sizes in all locations, which is why we offer both residential and commercial carpet cleaning services. Commercial properties should always be clean and presentable as the appearance of your office or store can have an impact on your reputation. We will use hot water extraction methods to clean your carpet and ensure your office looks wonderful. Your workplace will be healthy, hygienic, and presentable.
You can hire us to clean and maintain your carpets regularly as that will ensure your office or commercial property never appears unkempt or messy. We can work with all kinds of carpets and can handle big and small cleaning jobs.
What are the Benefits?
Regular cleaning will help maintain color and texture.
Extend the carpet's life.
Protect it from problems like matting and staining.
And completely remove all debris from the surface.
If you want high-quality carpet cleaning services for your home or office in Warren or Bridgewater Township, NJ, contact ServiceMaster Restoration by Complete for professional carpet cleaning. You can reach us anytime at (732) 751-4004 to set up an appointment.
---
Recent Reviews
Review by

Shayon M.
for
Disaster Restoration
Rating

"The project manager and his team were very efficient and knowledgeable. Quick turnaround on all the issues we had at home."
---
Review by

Daniel C.
for
Disaster Restoration
Rating

"Work was excellent. Your people are very hardworking and conscience. I am very satisfied and would certainly recommend service master to friend and neighbors"
---
Review by

Valarie B.
for
Disaster Restoration
Rating

"All who worked did a great job, but there was a lack of communication between the various parties (insurance companies, condo association) about what work needed to be done to address the situation. The carpet was never removed. I'm not sure why."
---
ServiceMaster Restoration by Complete Reviews
Review us on Google