ServiceMaster Restoration by Complete
[call] (732) 751-4004 [/call]
When a natural disaster strikes, it can sometimes cause very devastating damage to your property. If your commercial building or home has been affected by a storm, fire, or flood or has suffered damage in an accident, it's crucial that you get it fixed without delay. Only skilled and experienced professionals should be hired for construction services.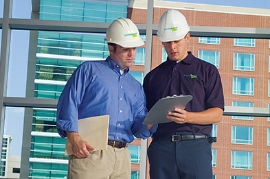 It's also very important that the structure be evacuated, inspected, and assessed as soon as possible. There are times when a delay can mean the stability of the structure gets impacted even further.  It's not easy to deal with a situation such as this. It means your life gets disrupted and you must relocate your family until the home is reconstructed and deemed safe for occupancy.
This type of a situation is equally concerning for commercial property owners as they must shut down their businesses which often results in a loss of income. ServiceMaster Restoration by Complete understands all of these problems that property owners face when their home or building is impacted by a natural disaster and we provide quick and efficient construction services to residential and commercial property owners.
Repairing the Damage
ServiceMaster Restoration by Complete has the experience and equipment to provide complete construction services. When you call us, we respond promptly and our experts will be at your location very quickly.
Our certified personnel conduct a thorough inspection and assessment of the premises and then design a comprehensive construction plan. We use high grade materials in the work and our team of skilled and well-trained subcontractors, handymen, and carpenters work efficiently to ensure the work is completed to the highest standards.
We have highly experienced project managers on board that oversee all the work and make sure the project is completed as scheduled. We handle everything from planning and designing, to project management and construction. The range of services we provide are:
Acquiring all the necessary permits & licenses
Detailed general contracting
Consulting & designing
Full-scale remodel jobs
Carpentry work, customized woodwork & framing
Carpeting & floor installations
Roofing repairs & replacement
Plumbing & electrical installation jobs
Architectural reporting, planning & blueprints
Custom-designed window treatments
Wallpapering
Smoke sealing
Staining & painting
If your residential or commercial building has suffered any kind of damage due to a natural disaster, it's never a good idea to hesitate getting the work done. The structure should be stabilized and reconstructed to prevent further damage.  You can't always prevent the damage caused by natural disasters, but addressing the problem on time can prevent the structural issues from getting worse.
We work round-the-clock so if you need our construction services for your commercial or residential property in Warren and Bridgewater Township, NJ, don't hesitate to call us at (732) 751-4004. We are quick with our response and provide excellent, customized solutions.  
---
Recent Reviews
Review by

Shayon M.
for
Disaster Restoration
Rating

"The project manager and his team were very efficient and knowledgeable. Quick turnaround on all the issues we had at home."
---
Review by

Daniel C.
for
Disaster Restoration
Rating

"Work was excellent. Your people are very hardworking and conscience. I am very satisfied and would certainly recommend service master to friend and neighbors"
---
Review by

Valarie B.
for
Disaster Restoration
Rating

"All who worked did a great job, but there was a lack of communication between the various parties (insurance companies, condo association) about what work needed to be done to address the situation. The carpet was never removed. I'm not sure why."
---
ServiceMaster Restoration by Complete Reviews
Review us on Google