Severe weather is something that people all over the world experience at one time or another.  In Superior, WI, we know that the area can experience severe weather conditions and storms including thunderstorms, blizzards, and tornadoes that consist of strong winds and precipitation.  When severe weather is imminent in the area, it is very important to have your home or business prepared because any of these weather conditions can cause damage to your property.  After a major storm, make sure to inspect your property for damage and call our professionals if you do find any damage.
ServiceMaster SDC provides storm damage restoration services in Superior, WI to help clean up and repair homes and businesses that have been damaged in a storm.  Our technicians will stabilize heavily damaged buildings, repair structural damage, and deal with flooding and water damage issues.
Severe Weather in Superior, WI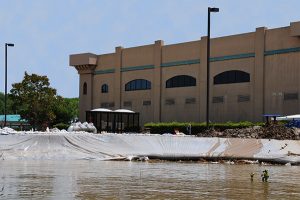 A storm can form in the Superior, WI area at any time of the year and there is always a chance the storm can be strong enough to cause damage to property.  Storms that include precipitation such as thunderstorms and blizzards can cause water damage from leaks or flooding.  If a storm contains strong winds, like a tornado, it can do serious damage to the exterior of a home or building which leaves it vulnerable to even further damage from being exposed.  It is very important that heavily damaged homes and buildings are stabilized and repaired immediately after a storm to help limit the damage and prevent something more catastrophic like a collapse of the building.
Make sure you check your home thoroughly for any damage after a storm so it can be addressed immediately.  Our professionals at ServiceMaster SDC are ready to provide complete storm damage restoration services that include the following:
Flood Damage Restoration: We can deal with any level of water damage from a storm including leaks and indoor flooding. Our technicians will remove standing water and moisture with our advanced equipment and ensure that the area is dry to avoid structural damage and mold.
Board Up and Tarping: We will cover broken windows, damaged roofing, and holes in the siding to secure the building with our board up and tarping services.
Structural Repairs: We will repair serious damage to the structural elements of your building to restore it to its pre-storm condition.
Debris Clearing: All debris including wood, drywall, broken glass, and tree branches will be cleared from your property.
Residents and business owners in Superior, WI are advised to always be alert for severe weather and make sure your property is protected to help prevent storm damage.  If your property is damaged due to a storm, you must call ServiceMaster SDC to restore your property with our storm damage repair services.  We can handle everything from water damage restoration to structural repairs to get your property back to its original condition.  We are available 24 hours a day at (218) 461-4434 to provide emergency storm damage restoration.
---
Related Storm Damage Restoration Services
Storm Damage Restoration in Duluth, MN
---
Review by L.D. – Superior, WI
Water Damage Restoration
Rating

"Had a water loss on Sunday, and you responded right away. I was very appreciative and wanted to make sure I thanked everyone involved. I could not have done myself, and am glad you have on-call people."
---
Review by G.B. – Saginaw, MN
Sewage Damage Cleanup
Rating

"I had a sewage back up in my home. I am impressed with your response time, what you did, and the communication. My son enjoyed working with you. Thanks for all of your help."