ServiceMaster EMT empathizes with the families and friends of those who take their own life.  In the event of a suicide, it is the family and friends who must endure a difficult time and ServiceMaster EMT has spent the past 15 years helping families and businesses in Los Angeles manage suicide clean up and begin the healing process.
Call The Suicide Clean Up Experts
Suicide scenes often contain blood, body fluids, and human tissue that can be very difficult physically and emotionally to clean for property managers or homeowners.  Not only do these elements add to the disturbing nature of the scene, but they also must be disinfected and sanitized properly to eliminate the health threat or threat of infection they pose.  During the suicide clean up process, certain challenges may arise as loved ones of the victim may be on the scene and objects used in the suicide such as weapons or hypodermic needles require proper handling.
Suicide Cleanup Services From ServiceMaster EMT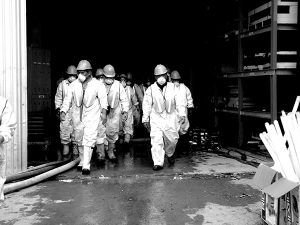 Each of our suicide cleanup technicians is professionally trained and chosen for the empathy that they show for the family and loved ones of suicide victims.  We work quickly to eliminate blood, tissue, bodily fluids, and odors from the scene as soon as possible to get the area back to normal.  Our suicide clean up service also includes:
Compliance with OSHA regulations as well as state and federal standards.
Licensed and bonded technicians.
Highly trained and insured employees.
Licensed medical waste disposal to safely transport and remove biohazards.
Suicide Support Services
The goal of our suicide clean up service is to restore the scene of a suicide back to its original state as quickly as possible to provide some relief to the families of the victim.  We understand that the loss of a loved one to suicide can be very difficult to cope with and we can refer family members to grief counseling services to help them deal with the overwhelming emotions of the situation.
We are available 24 hours a day, 7 days a week to provide suicide clean up services to LA California and the surrounding communities – call (888) 767-9075.