Tips for Inspecting Your Fire Extinguisher
While many home and business owners assume that a fire extinguisher will work when they need it most, what many do not realize is that they can malfunction. As they are rarely used, they can easily collect dust over time. However, it is crucial to have them checked on a regular basis in order to ensure that they will work properly in emergency situations. As this is your first line of defense when discovering a house or commercial fire, you will want to make sure you are properly prepared.
Check out these tips on how to ensure that your fire extinguisher is in good working condition, and if not, how to fix it:
Check the tamper seal. If this has been cracked or is broken, make sure that disposable fire extinguishers are thrown out. If it is rechargeable, you will want to have this serviced by a professional. You will also want to examine the pull pin to be sure that it is in the correct position. If it is missing, be sure to have the professional order a replacement.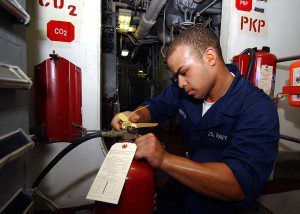 Examine for physical damage. As fire extinguishers can remain in a commercial or residential building for years at a time, it can take on a lot of physical damage. This includes corrosion, dents, leakage, and cracks. If it is leaking, it must be replaced as it will not provide full pressure. Also, inspect the nozzle to see if it contains bugs, dust, grime, or leakage.
Is it full? As leaks are common in fire extinguishers that are not checked on a regular basis, lift it up to see if it feels full. If not, it will most likely contain a leak and need to be replaced. You will also want to make sure that it will provide full pressure when you do need it.
Inspect the pressure gauge. A pressure gauge needle must be set at the optimum operating range. This area should be green to indicate whether or not it will operate at full capacity.
Record the inspection date on the tag. This way you can be sure of the last time you had inspected in addition to getting an idea of when you should have another inspection.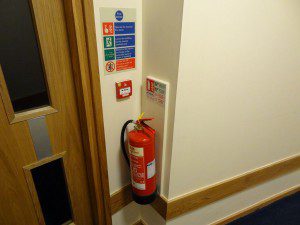 Be sure that it is easily accessible. In cases of property fires, you will always want to have your fire extinguishers easily accessible. The last thing you will want to face is having to search for it during an emergency situation. Also, be sure to let everyone who is living or residing on the property know of its location as well as how to use it in the case of emergency.
Finally, do not forget to call 911 in the case of an emergency immediately after ensuring everyone's safety. While fire extinguishers can be used for smaller fires, it is still best to contact your local fire department before trying to put out the flames yourself.
Dealing with Fire Damage
While a small fire can be put out with a fire extinguisher, others have grown to be large and overwhelming. This can result in severe damage to not only your building materials, but to your content as well. In the case that this does happen, call ServiceMaster Recovery Services in Milwaukee for immediate fire damage restoration services. Their fire damage repair technicians are available at all times of the day to handle both small and large losses. Do not hesitate to call to not only have the damage restored immediately but in order to prevent it from spreading.