The Importance of Emergency Board Up Services
A home that undergoes restoration due to an adverse weather event, such as flooding or a storm, fire damage or even a vehicle accident, will benefit from emergency board up services. Boarding up the home prevents further damage from a variety of sources.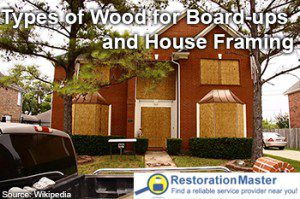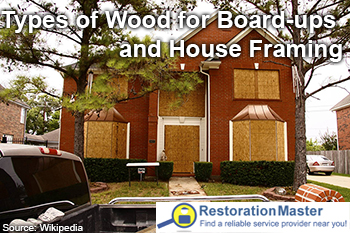 Natural disasters can strike at unexpected times, leaving a homeowner unprepared. Disasters are swift and destructive. Property doors may blow open or become otherwise damaged. Windows can shatter, siding can rip off, and the roof or walls may collapse. Outside, large tree limbs may break.
Similarly, a home fire can compromise the structural integrity of the building. Charred wooden floor joists will become unstable when exposed to the fire for prolonged periods. Firefighters who respond to the scene will likely have broken the windows to extinguish the roaring flames.
The damaged home will be too structurally unsound to safely inhabit after any of the abovementioned events. While the restoration of the property is underway, the home will remain unoccupied. A damaged but empty home can be attractive to a number of unwanted guests.
What are reasons to board up a damaged home or business?
Protection from the elements
After the home is partially destroyed by an adverse event, it remains vulnerable to inclement weather conditions. High winds, heavy rains, and flying debris can further destroy a home that is already damaged. In colder climates, hail can beat down and snow can enter through openings.
Openings in the home develop when windows shatter and doors break. Rain can pummel into the interior of the home through the holes in the roof or via a collapsed roof. Powerful gusts of wind can tear off the home's siding.
When moisture from rain, sleet, or snow is introduced into the damaged home, the homeowner will face a major case of water damage. Several inches of water can accumulate within hours of a rainstorm or snowstorm. The floors, carpets, and electronics will sustain serious water damage.
Plus, falling precipitation can nourish mold spores lying dormant with the home. The mold spores awaken when a constant moisture source is present. Mold grows within the short span of 24 to 48 hours. In addition to water damage, the homeowner will face mold damage.
Protection from animals
Openings in the rooftop will attract pests of all sorts. Squirrels may find that the attic is a warm place to nest. Rats and raccoons will make their way into the home through the broken windows and doors. Once inside the property, the wild animals will cause additional destruction.
Animals track dirt into the home as they scamper in and out. Curious critters tear up the furnishings, from sofas to cushioned chairs. Even worse, wild pests will urinate and defecate all over the property. The homeowner must resort to drastic cleanup efforts to make the home habitable again.
Protection from vandals
Vandals on the lookout for opportunities to loot a home or business will find plenty after a disaster strikes. A home that is not boarded up will invite looters and thieves. Burglars will steal electronics, art, money, and any other valuables that appear free for the taking.
Once the valuables are emptied out, delinquents will continue to wreck the property. Vandals are known to spray paint graffiti on the walls or simply break items left inside. Security cameras damaged by storms will be inoperable and therefore will fail to capture the criminal activity.
What are the benefits of board up services?
Emergency board up services are crucial to preventing further damage from the abovementioned sources. Boarded up windows, for instance, keep out rainwater and, therefore, prevent additional water damage to the belongings and the interior rooms of the home or business.
Wild animals will look for another home to occupy when the property is adequately boarded up. A tarp over the roof, for instance, will keep birds from building nests in the attic. Boarded up doors and windows will prevent small dogs or squirrels from entering.
A boarded-up home is a deterrent to vandals. Plywood secured along the windows and doors is a warning to would-be thieves to stay away. Emergency board up services sufficiently secure the home or business until the property owner is able to install new doors, windows, or a roof.
Installing new doors, a roof, or windows takes time, which is why emergency board up solutions are key to saving the property from further harm. Emergency board up services are specifically designed to keep out the elements, wild animals, and vandals.
Boarding up the home is a straightforward process, one that can salvage the home in the shortest amount of time. Carefully cut plywood at least 5/8 inches thick is used to cover the windows and doors. Thicker plywood is durable, generally easier to obtain and the least expensive.
When should you get a professional to help?
The security of your home is of utmost importance, especially after a disaster. If your home or business is damaged by a storm, fire or other disastrous event, you'll need a reliable restoration company to start the cleanup and restoration process.
Restoration professionals offer several types of disaster restoration services, including water damage restoration, fire damage cleanup, mold remediation, trauma scene cleaning and hoarding cleaning. Property owners will find comprehensive restoration services provided by highly trained technicians and IICRC certified managers.
Your home or business will be returned to its original condition as swiftly as possible when you call disaster restoration professionals for emergency services. Teams of restoration experts deliver quality results while ensuring the highest standards of professionalism.