The Risks of Animal Hoarding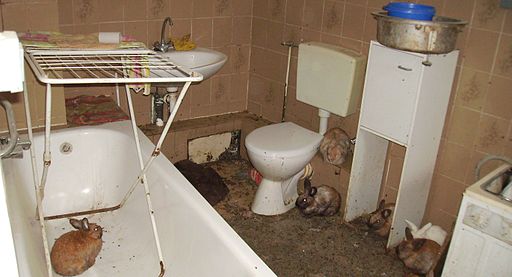 Animal hoarding is a psychological disorder that is not well understood. It often involves severe neglect of the hoarder themselves, the animals, and the home environment. Many animal hoarders honestly believe that they take very good care of their pets, and that they are doing nothing wrong. This denial, coupled with extreme squalor, makes the situation difficult to remedy.
Risks of Animal Hoarding
Animal hoarding is more than simply owning a large number of pets. Pet ownership becomes hoarding when the number of pets becomes overwhelming to the owner, who cannot provide adequate food, living space, and veterinary care.
This situation leads to unsanitary conditions when fecal matter and urine collect in the home. This causes unhealthy air quality, and can trigger asthma attacks, especially in children, the elderly, and people with compromised immune systems.
Fleas and other insects infest the area, leading to the spread of disease between the animals and humans in the environment.
People who hoard animals often hoard inanimate objects as well, leading to extreme clutter and fire hazard.
Animal Hoarder Cleaning Procedures
If you suspect that someone you know has become an animal hoarder, there are a variety of cleaning procedures to consider:
Decluttering and removal of trash
Removal of excess animals
Deep cleaning
Household repairs
If the hoarding is fairly minor and the person is willing and able to cooperate with a cleanup, you may be able to clean up the environment yourself.
When Should You Call a Professional Cleaning Crew
Moderate to severe cases of animal hoarding may require professional cleaning, especially if there are health and safety issues to consider. If there are large amounts of fecal matter, urine, or other bodily fluids to clean, live or dead rodents, or infestations of insects, you should not attempt to clean the area yourself. Call a cleaning team that specializes in hoarding situations or forensic clean up. They will have specialized safety equipment and cleaning and sanitizing supplies to restore the home to a habitable condition.
Hoarder Cleaning Cost
No reputable hoarding cleanup company will provide you a quote or estimate over the phone. Each situation is unique, and requires a visit to the premises before the cleanup crew can estimate the amount of work to be done.
If you need to bring in a hoarder cleaning company, especially when there are animals involved, it will be expensive. However, the decreased health and safety risks to both the hoarder and the animals, and the peace of mind knowing that the residence has been professionally cleaned, may be worth the cost.