Tips to Remove Mold from Watercolor Paintings?
Watercolor paintings, no matter how exquisite, are at risk for mold growth. Temperature and humidity fluctuations in the rooms in which the paintings are stored can trigger a mold invasion. Here are tips art enthusiasts can follow to remove mold from their prized watercolor paintings.
How does mold grow on watercolor paintings?
Natural floods, thunderstorms, and sewer backups are common causes of flooding. Paintings that are stored in the basement, for instance, can be exposed to excess moisture in the aftermath of a flood. The constant moisture is one of three primary food sources that nourish mold spores.
The other two sources of nourishment are darkness and organic materials. Mold thrives when an abundance of organic materials, in combination with moisture and darkness, are available. Watercolor paper can consist of cotton or wood pulp—both exceptionally nutritious materials for mold spores.
Canvas, another organic material, may be used in watercolor paintings. Whether an artist paints on 100 percent cotton paper, canvas or wood, the organic surfaces are ideal for supporting mold growth under the right conditions. Simply add continuous moisture to the mix, and mold spores will multiply.
Additionally, artwork that is housed in closed rooms are susceptible to mold growth. Windows and doors that are kept shut for prolonged periods reduce the amount of airflow within the room. As a result, a minor case of mold can develop. The problem will escalate if not remedied quickly.
Even if a room has escaped water damage, watercolor paintings should be examined for mold growth. This is a necessary step, since mold can grow even in rooms that have not been directly touched by the intruding moisture. Artwork should ideally be stored in the safest, driest rooms.
What are tips to remove mold from watercolor paintings?
Eliminating mold from delicate watercolor paintings is a complex task. It is far more difficult than cleaning a bathtub with a bleach solution. Removing the mold from a painting must be done with extreme care, so as not to further damage the artwork itself.
Know the material
Watercolor paintings, which are created with water-based paints, are highly fragile. It is important to be familiar with both the medium and material of the painting in order to determine any potential reactions with the cleaning solution, such as a mix of commercial rubbing alcohol and water.
Apply an alcohol solution
Lightly mist the back of the canvas or paper with 70 percent alcohol in water. Opt for commercial rubbing alcohol rather than pure isopropyl alcohol, since the latter is less effective in killing mold. An application of rubbing alcohol and water will kill active mold spores.
Begin cleaning from the back
It is preferable to start removing the mold from the back of the watercolor painting, as opposed to the front, thereby avoiding damage to the paint. Keep from saturating the painting with the liquid solution. Instead, as mentioned, lightly mist the surface of the painting to stop the mold growth.
If the front of the painting is covered in small mold colonies, lightly dab the surface with a cotton swab dipped in the alcohol and water solution. Be cautious with this approach, however, as the alcohol solution is a potent solvent that can alter or damage the paint surface.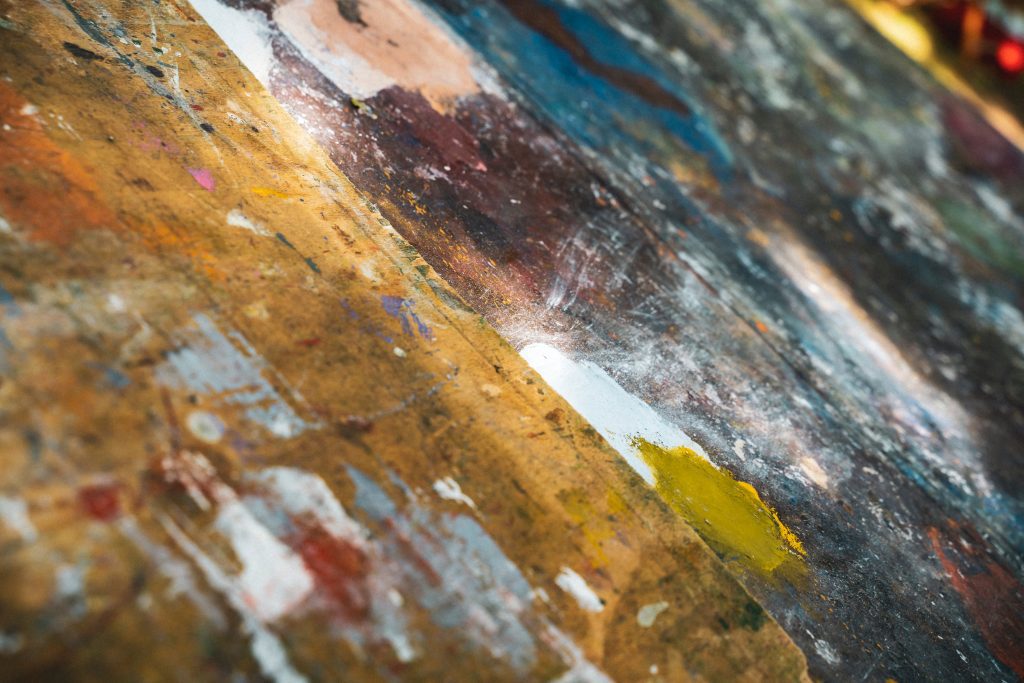 Vacuum with a HEPA filter
When first attempting to clean the mold off a watercolor painting, test an inconspicuous area using the alcohol cleaning solution. Clusters of dry mold spores can be lightly brushed away using a soft-bristled brush. Follow using a HEPA filtered vacuum hose to suction up any remaining mold.
Using a HEPA filtered vacuum is critical, since the gadget will trap mold spores and prevent them from being released into the air and contaminating other parts of the home. Even dead mold spores are dangerous and can cause allergic reactions.
Dry the painting in the sun
Drying the watercolor painting afterward is a critical part of the mold removal process. Sunlight effectively combats mold, while simultaneously drying the painting. Although sunlight is known to harm artwork, the length of time the painting is left in the sun is not enough to damage the colors.
Direct sunlight will thoroughly dry the watercolor painting. Set the artwork outside in a sunny spot and on a blanket, towel, or wooden board for two to three days, or until it has completely dried. If indoor drying is necessary, lay the painting flat in front of a sunny window.
Cleaning mold from artwork should be done carefully. Homeowners who hesitate to handle the task themselves can hire a conservator to treat the mold. Conservators are specially trained to apply conservation-approved chemicals to remove mold and flatten artwork that has warped.
Mold is a pesky nuisance. While homeowners will be horrified to discover valuable watercolor paintings stained with mold colonies, mold can infest other parts of the home, too. When you are faced with a mold invasion, consult the mold remediation experts.
The mold removal process starts with an inspection to locate all hidden and visible mold growth as well as the moisture source. Highly skilled technicians seal the area to prevent airborne spores from spreading and contaminating other rooms. They remove the mold and repair damaged surfaces.
Mold remediation professionals also efficiently handle textile and clothing restoration, a service that may become necessary after a flood, fire or mold infestation. Specialists will pick up the materials, store them at our facility, deodorize them, and perform specialty dry cleaning.