Mistakes to Avoid When Dusting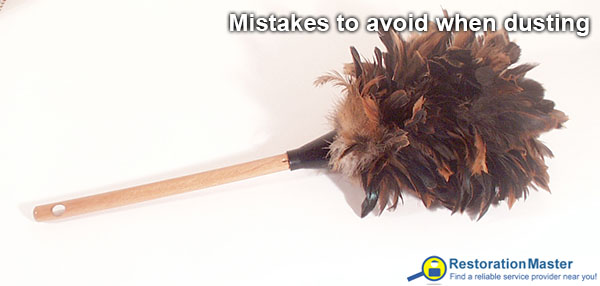 Keeping your home dust-free improves indoor air quality, reduces allergens, and makes your rooms look and feel their best. Unfortunately, sometimes dusting feels like a never-ending chore. Books, knick-knacks, and other hard-to-clean items seem to attract more than their share of airborne particles. Learn how to remove dust from your home faster and more easily, so you can spend more time relaxing.
Dusting Tips
Dusting is one of those chores that is deceptively simple. On the surface, it seems as if all you'd need to do is wipe dusty surfaces with a soft cloth – but there are a few tricks you can use to dust your house more effectively.
Use the right tools. That old feather duster might look good, but it's not really effective at removing dust. Swap it for a microfiber cloth that attracts dust particles.
Use dusting spray. Spray your dusting cloth, not your furniture. Just a hint of dusting spray on a microfiber cloth will hold onto the dust, lifting it away from shelves and furniture. Avoid applying dusting spray directly to surfaces. It can build up, making your furniture grimy and attracting even more dust.
Dust first, then vacuum. Don't drop dust from the shelves onto your newly cleaned floors. Be sure to change or wash the filter on your vacuum cleaner so it does not re-release dust back into the room.
Don't forget the vents. Heating and air conditioning vents are notorious for blowing dust and allergens into rooms. Keep them clean to reduce the amount of dust on your shelves and furniture.
Depending on your family, number of pets, and the season, you may need to dust as little as twice per month, or as much as 2 – 3 times per week. If keeping ahead of the dust, on top of everything else you need to do, is overwhelming, consider hiring a cleaning service.
Residential Cleaning Services
Residential cleaning services, such as ServiceMaster Floor Care by MasterCare, offer both seasonal deep cleaning and regular ongoing cleaning services.
Seasonal deep cleaning often occurs 1 – 4 times per year and includes carpet and window cleaning as well as room-by-room cleaning.
Ongoing residential cleaning services are usually scheduled weekly or bi-weekly, and include kitchen and bathroom cleaning, dusting, vacuuming, and other regular housecleaning tasks.
Prices for residential cleaning services vary depending on the size of your home, how many people and what equipment is needed, and the frequency of cleaning.