How to Organize Your Office
Do you just dread going to work because of the current condition of your office? While many of us love our jobs, the condition of our working space can have a big impact on our productivity. If you think about it, it can be hard to get anything done with clutter everywhere. With so much going on, even concentrating on a simple task can be almost impossible.
If you find yourself constantly searching for things that are hidden under mounds of clutter or are moving things around just to walk by, it's time to re-vamp your office.
An office space can be updated with the most modern-looking furniture and technology and still look dirty; however, by following these few tips on how to organize your office space, you may be surprised at the difference it will make – and even increase your productivity.
Clear the Walking Area
The first step in tackling this giant mess is to start with the big furniture. If there is something blocking your walking area, move it out of the way. Especially if you have seen others tripping over it, it needs a new home. These can include side tables, filing cabinets, lounge chairs, coffee tables, plants, and even small desks.
If there is currently no other place to put them, consider getting rid of or storing them in a closet until after you are finished with the cleaning. Because you will be walking around your office space throughout the cleaning job, you need space to move around.
De-Clutter the Desk
Your desktop is the most important space to keep cleaned at all times since you will be using it most. If you have to lift up your forearms while typing because of the clutter underneath, it needs to go.
On the other hand, others who thrive off of a messy desk are the creatives. Having an array of information and clutter everywhere can give them ideas that make them the most productive. If this is the case for you, disregard this step.
But for others, organization is key when keeping a clean desk. You can find different ways to get creative when organizing your documents, office supplies, and decorations.
Organize Paperwork
When you have been working at the same company for over 3 years, you probably have a lot of responsibilities right now, and that includes lots of paperwork to sort through. Each day, many of us get new documents that will need to be reviewed at least once before it is sent out again.
If you have found yourself taking on multiple projects at once, the key to success and turning them in on time is to organize them properly. Instead of keeping them in piles on your desk, you can use dividers, folders, or document trays on your desk for old and new documents.
If you have any unopened, new, or unread documents, they belong in the new tray. This will also benefit those who are wondering if you have opened their document or not. If they see it in the tray marked "New," they won't have to ask that common question, "Did you get a chance to look at it yet?" Finally, when you have time, all of these new documents will be waiting for you in the same place.
For the "Old" tray, use it for the documents that you are aware of, but still need to sort and review. Think of it as your to-do list for tasks such as filing, forward, scanning, making copies, etc.
At first, this system may seem like a hassle to do because there are so many papers to sort through, but once it is done, you will be thanking yourself in the future; the amount of time it eliminates down the road will be well worth it.
Use Trays and Caddies for Office Supplies
Everybody has a junk drawer at work. It is filled with things that we have no idea where else to put them. While this solution may not cover everything in this drawer because each one is different, it can get rid of the small things like office supplies.
You can go to OfficeMax, Staples, or even the dollar store and pick up some trays and caddies for paper clips, staples, pens, pencils, rubber bands, and anything else that you have a million of. By going through and sorting these items now, it will save a significant amount of time when trying to dig around in the drawer for them later.
Some of us may be thinking that taking the time and sorting through the small things is going overboard, but if you think about the time that you will be saving in the future, you will probably do it. For example, if you are late for a meeting and you need to reload your staple for putting together a last-minute presentation, you will know where to find them. If your spouse is waiting in the car to pick you up from work, finding, scanning, and turning in that last document will only 3 take minutes, not 10 since you won't spend 7 trying to find it. All of these little increments will amount to hours over time, allowing for more productivity in the future.
Personalize Your Office
While it is not good to clutter up your area, it is unhealthy to be staring at your computer screen the entire 8 hours you are at work. This is a great opportunity to personalize your working space by adding some pictures, flowers, collectible items, and wall art.
If you have a lot of pictures with friends and family, you can fill a small bulletin board with 4 x 6 prints or your kids' drawings and reflect on memories while you are working. Adding a plant or two can also bring some life to the space and even raise spirits on a gloomy day. Finally, Amazon, HomeGoods, and Michaels have a great selection for picking out some pictures for wall decorations. As long as the contents are appropriate for work and your boss approves, you can be really creative when personalizing your office.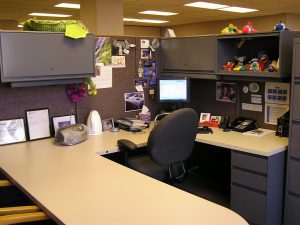 While the goal of this article is to keep your office organized, adding some personal touches can really enhance its look and feel. As long as the space doesn't feel cluttered, these items can also make your desk look more clean and organized than if you were to leave the area empty. Don't forget that this is where you are spending 1/3 of your life (for those 9 – 5 jobs), so it is important that you feel comfortable at work.
Do the Sit-and-Reach Test
This is not the same test that you did in high school, but one where you are able to grab daily items that you need from where you are sitting. These will include the stapler, paper clips, your computer, document trays, books, and any other items you will need for your job.
If these items are not within reach of where you are sitting, you will need to do some re-organizing to make sure you won't have to get up on a regular basis for everyday items. On the other hand, you can move other items, such as a coffeemaker, training books, magazines, etc. to a nearby bookshelf or table in order to make room for the things you need.
Update Technology
As you are probably already aware, technology is advancing everyday, which means that it is important to be as updated as possible for business operations. Especially if your business involves a lot of computer work, printing, scanning, etc., it is important to have the latest technology.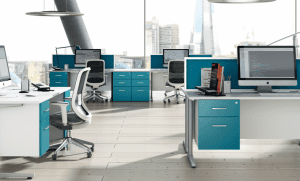 While new machines can be expensive to purchase, think of it as saving money on time spent on waiting for an older machine to get the job done. It can also prevent a trip to a commercial printer if you have the equipment to do the job in the office.
If your equipment takes a long time to do a task or it is taking up a lot of space, research some prices of a replacement to see if buying a new one would be appropriate.
Add Storage Space
If you have a small office or cubicle, but handle a lot of paperwork, you will need as much storage as you can get. If you are not able to scan the documents into a computer, look for a second option that will offer some much-needed space to your small area.
Remember, you are not limited to only the walls of your office or cubicle; if they are filled, you can build up, using taller shelves, or place smaller storage spaces on top of the larger ones. Just make sure that it does not create a safety hazard for you or your neighbors.
After adding these extra storage items, you may be surprised at the result as you will no longer be overwhelmed when finding paperwork and other office supplies piled on top of each other.
Invest in a Bigger Trash Can and Recycling Bin
If you are not recycling already, you are hurting the environment. But the beauty of this is that you can start at anytime; if you have time after work this week, pick up a plastic bin from the store and label it "Recycling" so others can use it too. You may be surprised at the amount of items that are recycled each day that you didn't notice before.
Getting a bigger trashcan will also mean taking it out less often. In addition, a larger bin will be more visible, you will think of it more often, and paperwork and other garbage will be disposed of right away. This will ultimately prevent more clutter from piling up in the future.
Office Cleaning
Don't forget your regular office cleanings from janitorial services. If you don't have the resources or time to do it yourself, you can outsource it to a professional commercial cleaning company that will be less expensive than hiring a janitor.
In addition, you can follow these tips on what to know and how to clean a dirty office to kill bacteria where it is most prevalent – such as your mouse, keyboard, and primary working area.
Paint it a Different Color
If you are an employee working for a large company, you probably won't have permission to do so, but consider changing the color of your walls for your office at home. If you work remotely, make your home office a fun place to work by spicing it up with decorations, a new color for the walls, and even changing the positions of your furniture.
With a brand-new look to your office space, it can be exciting to come to work every morning. You may even think of a new business strategy just by changing the angle of your desk. Overall, the goal is to provide a clean, modern, and inspiring look your working area, one that will give you new ideas and add some excitement when coming in on a Monday morning.
Hire a Commercial Cleaning Company
As mentioned previously, if you haven't already hired commercial cleaning services, there is most likely millions of bacteria crawling all over your working area. Especially if you eat where you work, like 60% of Americans, you are facing a significantly higher risk for getting sick. To avoid this, you can bring a container of Lysol wipes to wipe down your area, at least once each week, to get rid of growing bacteria.
It is also important to hire professional carpet and upholstery cleaning services to remove all dirt and debris from the furnishings. A vacuuming job can remove the loose debris, but only professional services will remove those that are deeply embedded and even enhance the look and feel of the entire room.
If you are searching for a commercial cleaning service, check out your local ServiceMaster. Not only do they provide cleaning services for all areas of the building, they use advanced products, equipment, and methods, to leave the areas looking just as they did when they were manufactured. Each technician has years of experience and will make sure to focus on areas with the highest concentration of dirt, bacteria, and other debris. Finally, you can look forward to a whole new look and feel of your office that you will look forward to when walking in each day.